p-ISSN: 0216-1370  | e-ISSN: 2442-8620
Cakrawala Pendidikan is a high quality open access peer reviewed research journal that is published by Institute of Educational Development and Quality Assurance of Yogyakarta State University (LPPMP - UNY). Cakrawala Pendidikan is providing a platform that welcomes and acknowledges high quality empirical original research papers about education written by researchers, academicians, professional, and practitioners from all over the world.
Jurnal Cakrawala Pendidikan with ISSN 0216-1370 (printed) and ISSN 2442-8620 (online) has been re-accredited by Indonesian Ministry of Education and Culture decision Number  80/DIKTI/Kep/2012 which is valid for five years since enacted on 13 December 2012.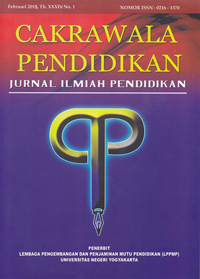 No 2 (2017): CAKRAWALA PENDIDIKAN EDISI JUNI 2017, TH. XXXVI, NO. 2
Table of Contents
Articles
Yeni Nur Prilanita
Sukirno Sukirno

M.J. Dewiyani Sunarto
I Ketut Budayasa
Dwi Juniati