| | |
| --- | --- |
| ISSN | 0216-1699 (print) | 2581-2300 (online) |
| DOI Prefix | 10.21831 by |
| Publisher | Fakultas Ilmu Keolahragaan Universitas Negeri Yogyakarta |
| Editor in Chief | Saryono |
|   |   |
| Frequency | Biannually (April & November) |
| Focus & Scope | Jurnal Pendidikan Jasmani Indonesia is a high quality open access peer reviewed research journal that is published by Faculty of Sport Sciences of Universitas Negeri Yogyakarta (FIK-UNY). Jurnal Pendidikan Jasmani Indonesia is providing a platform that welcomes and acknowledges high quality empirical original research papers about physical education written by researchers, academicians, professional, and practitioners from all over the world. |
| OAI Journal | http://journal.uny.ac.id/index.php/jpji/oai |
|   |   |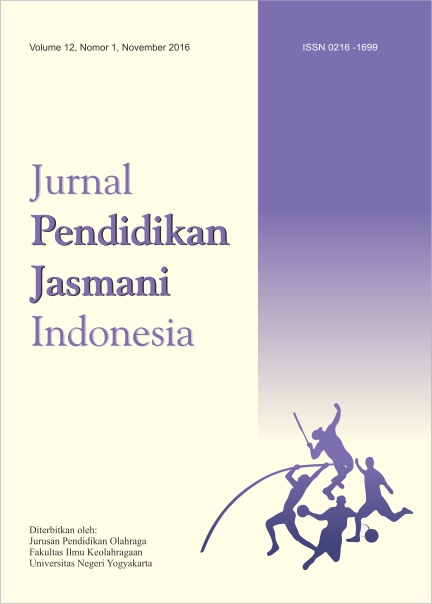 | | |
| --- | --- |
| | This journal has been ACCREDITED by National Journal Accreditation (ARJUNA) Managed by Ministry of Research, Technology, and Higher Education, Republic Indonesia with Third-Grade (Peringkat 3, Sinta 3) since year 2018 to 2023 according to the decree No. 28/E/KPT/2019. |
Jurnal Pendidikan Jasmani Indonesia is a high quality open access peer reviewed research journal that is published by Faculty of Sport Sciences of Yogyakarta State University (FIK-UNY). Jurnal Pendidikan Jasmani Indonesia (JPJI) is providing a platform that welcomes and acknowledges high quality empirical original research papers about physical education written by researchers, academicians, professional, and practitioners from all over the world.
Accepted and published papers will be freely accessed in this website and the following abstracting & indexing databases:
Google Scholar

Crossref Search
Publick Knowledge Project (PKP) Index
The journal has been listed in
OAI Address
Jurnal Pendidikan Jasmani Indonesia has OAI address: http://journal.uny.ac.id/index.php/jpji/oai
Please read this guideline carefully. Every manuscript sent to the editorial office of the journal ought to follow the writing guidelines. If the manuscript does not meet with the author guidelines or any manuscript written in different format, the article will BE REJECTED before further review. Only submitted manuscripts that meet the journals format will be processed further.
Before submission,
You have to make sure that your paper is prepared using the JPJI paper TEMPLATE, has been carefully proofread and polished, and conformed to the Author Guidelines.  

Online Submissions

Registration and login are required to submit items online and to check the status of current submissions
Announcements
No announcements have been published.
Vol 16, No 1 (2020): April 2020
Table of Contents
Articles
| | | |
| --- | --- | --- |
| | Komarudin Komarudin, Farhana Risqi | 1-8 |
| | | |
| --- | --- | --- |
| | Prayogi Dwina Angga, Eko Hariyanto, Agus Tomi | 9-17 |
| | | |
| --- | --- | --- |
| | Hedi Ardiyanto Hermawan, Kurnia Nurmasari | 18-27 |
| | | |
| --- | --- | --- |
| | Sridadi Sridadi, Riky Dwihandaka, Ariyo Bagiastomo | 28-40 |
| | | |
| --- | --- | --- |
| | Panji Nur Wicaksono, Indra Jati Kusuma, Rifqi Festiawan, Neva Widanita, Dewi Anggraeni | 41-54 |
| | | |
| --- | --- | --- |
| | Sri Mawarti, Afifah Ari Arsiwi | 55-64 |
| | | |
| --- | --- | --- |
| | Kusriyanti Kusriyanti, Pamuji Sukoco | 65-77 |
| | | |
| --- | --- | --- |
| | Ariyanto Ariyanto, Andika Triansyah, Uray Gustian | 78-91 |
| | | |
| --- | --- | --- |
| | Arif Hidayat, Riyan Pratama, Bayu Hardiono | 92-100 |
| | | |
| --- | --- | --- |
| | Sri Winarni, Lismadiana Lismadiana | 101-114 |