Jurnal Prima Edukasia is a journal published by Asosiasi Dosen PGSD dan Dikdas Indonesia, cooperated with the Departement of Primary Education, the Graduate School of Yogyakarta State University. The journal disseminates researches and scientific studies results on primary education.
The journal is published twice a year, January and July.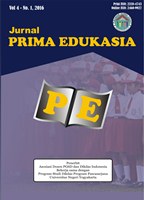 Please read this guideline carefully. Every manuscript that sent to the editorial office of Jurnal Prima Edukasia ought to follow the writing guidelines. If the manuscript does not appropriate with the author guidelines or any manuscript written with different format, the article will BE REJECTED to the authors before further reviewed. Only accept manuscript that is meet Jurnal Prima Edukasia format.