INFORMASI published by Departement of Communication, Faculty of Social Science Yogyakarta State University since 1970. INFORMASI is accredited at rank Sinta 4 by the Ministry of Research, Technology and Higher Education of Indonesia based on Decree (SK) No. 21/E/KPT/2018 valid from Volume. 46. No. 1 2016-Volume. 50. Nomor. 1. 2020.
INFORMASI is an academic journal that centered in communication, is open and welcoming to contributions from the many disciplines and approaches that meet at the crossroads that is communication study. We are interested in scholarship that crosses disciplinary lines and speaks to readers from a range of theoretical and methodological perspectives. In other words, INFORMASI will be a forum for scholars when they address the wider audiences of our many sub-fields and specialties, rather than the location for the narrower conversations more appropriately conducted within more specialized journals. 
INFORMASI published twice a year (June and December) in Bahasa Indonesia or English. This journal, serving as a forum for the study of communication in Indonesia and other parts of the world within its local and challenging global context, supports focused studies of particular theme and interdisciplinary studies. INFORMASI has become a medium of diffusion and exchange of ideas and research findings, so much so that researchers, writers, and readers from various traditions of learning have interacted in the scholarly manner.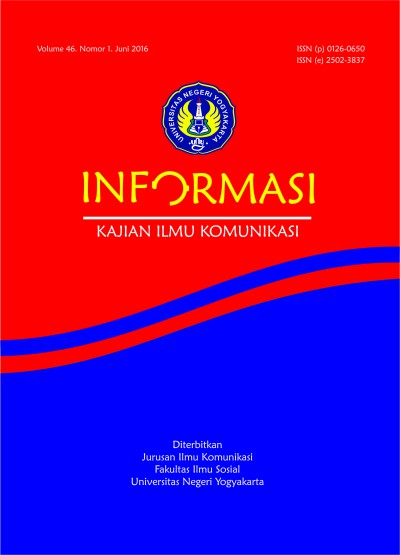 Vol 48, No 1 (2018): INFORMASI
Kajian Ilmu Komunikasi
Table of Contents
Fronts
Editorial
| | | |
| --- | --- | --- |
| | Lily El Ferawati Rofil | v-vii |
Articles
| | | |
| --- | --- | --- |
| | Adamkolo Mohammed Ibrahim | 15-32 |
| | | |
| --- | --- | --- |
| | Fauziah Hassan, Sofia Hayati Yusoff, Siti Zobidah Omar | 33-48 |
| | | |
| --- | --- | --- |
| | Brahma Putra Pratama | 49-64 |
| | | |
| --- | --- | --- |
| | Gilang Gumelar, Hanny Hafiar, Priyo Subekti | 65-78 |
| | | |
| --- | --- | --- |
| | Syifaul Fauziyah, Kharisma Nasionalita | 79-94 |
| | | |
| --- | --- | --- |
| | Abidatu Lintang Pradipta, Nadya Warih Nur Hidayah, Afifah Nafiatun Annisa Haya, Carissa Ervani, Deny Kristanto | 109-124 |
| | | |
| --- | --- | --- |
| | Anastasia Yuni Widyaningrum, Noveina Silviyani Dugis | 125-138 |
| | | |
| --- | --- | --- |
| | Mubarok Mubarok, Diah Wulandari | 139-152 |
Appendix