Informasi published by Department of Communication, Faculty of Social Science Universitas Negeri Yogyakarta since 1970 and Ikatan Sarjana Komunikasi Indonesia (ISKI) based on a memorandum of understanding 05/MoU/Jurnal/ISKI/X/2018-01/MoU/INFORMASI/ILKOMUNY/X/2018.
Informasi Volume. 49. No. 1. June 2019-Volume. 53. No. 2.  December 2023 accredited at rank Sinta 2  by the Ministry of Research, Technology and Higher Education of Indonesia based on Decree (SK) Nomor: 36/E/KPT/2019.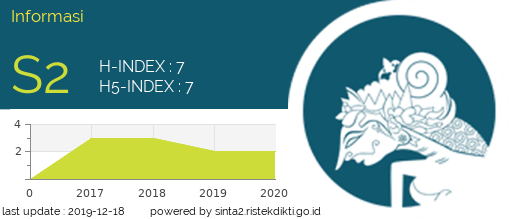 Informasi is an academic journal that centered on communication, is open and welcoming to contributions from the many disciplines and approaches that meet at the crossroads that is communication study. We are interested in scholarship that crosses disciplinary lines and speaks to readers from a range of theoretical and methodological perspectives. In other words, Informasi will be a forum for scholars when they address the wider audiences of our many sub-fields and specialties, rather than the location for the narrower conversations more appropriately conducted within more specialized journals. 
Informasi published twice a year (June and December) in English. This journal, serving as a forum for the study of communication in Indonesia and other parts of the world within its local and challenging global context, supports focused studies of particular themes and interdisciplinary studies. Informasi has become a medium of diffusion and exchange of ideas and research findings, so much so that researchers, writers, and readers from various traditions of learning have interacted in a scholarly manner.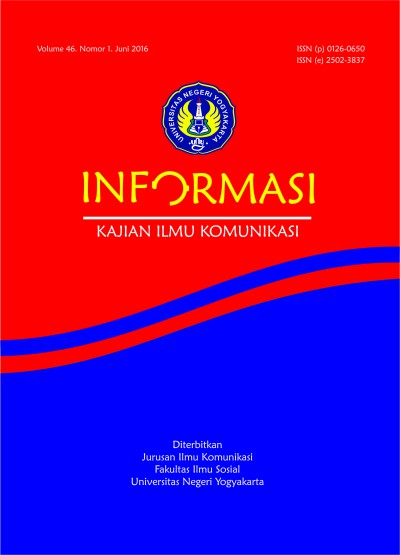 Vol 49, No 2 (2019): Informasi
Table of Contents
Fronts
Editorial
| | | |
| --- | --- | --- |
| | Lily El Ferawati Rofil | v-ix |
Articles
| | | |
| --- | --- | --- |
| | Asnurul Novia Narendra, Sri Kusuma Habsari, Deny Tri Ardianto | 77-90 |
| | | |
| --- | --- | --- |
| | Siti Khopipah, Ade Tuti Turistiati | 91-100 |
| | | |
| --- | --- | --- |
| | Lusi Setyo Wulandari, Nova Permata Sari | 101-112 |
| | | |
| --- | --- | --- |
| | M. Rodinal Khair Khasri | 113-124 |
| | | |
| --- | --- | --- |
| | Yosi Erlanitasari, Andre Rahmanto, Mahendra Wijaya | 145-156 |
Appendix