Efisiensi: Kajian Ilmu Administrasi is a scientific journal for reporting the results of office administration research with a focus on office administration and scope discussion on 1) Office Administration Education, 2) Office Information Technology; 3) Office Resource Management, 4) Office Administration, 5) Office Management, 6) Automation Office Technology, 7) Office Technology, 8) Public Relations, 9) Office Simulation, 10) Event Management, 11) Excellent Service, 12) Secretarial, 13) Correspondence, 14) Communication, 15) Organization, 16) Record Management, 17) Leadership, 18) Business Administration, 19) Public Administration and 20) Human Resource.
The journal is published by the Administration Education Program, Faculty of Economics, Universitas Negeri Yogyakarta, two times a year in February and August. In 2019, Efisiensi: Kajian Ilmu Administrasi was accredited by the Sinta 3. (download printed version of the accreditation certificate) 
In an effort to improve the quality and management of journals. On March 7, 2020, at the State University of Jakarta, a collaboration in the management and publication journal of Efisiensi: Kajian Ilmu Administrasi was signed with Asosiasi Sarjana dan Praktisi Administrasi Perkantoran (ASPAPI) Pusat. (memorandum of agreement) 
With respect, our editorial team invites Lecturers, Practitioners, Researchers, Teachers, Students, and other parties who have manuscripts of articles in the field of office administration and are willing to participate in the online submission. The author's guidelines can be downloaded here, and the manuscript must be typed in Ms. Word format (21cm x29,7cm); more detail is here.  Online submission by registering if you do not have an account and are willing to comply with publication ethics. The procedures and standards for submission, reviewing, and publishing journals are according to the guideline. 
Best regards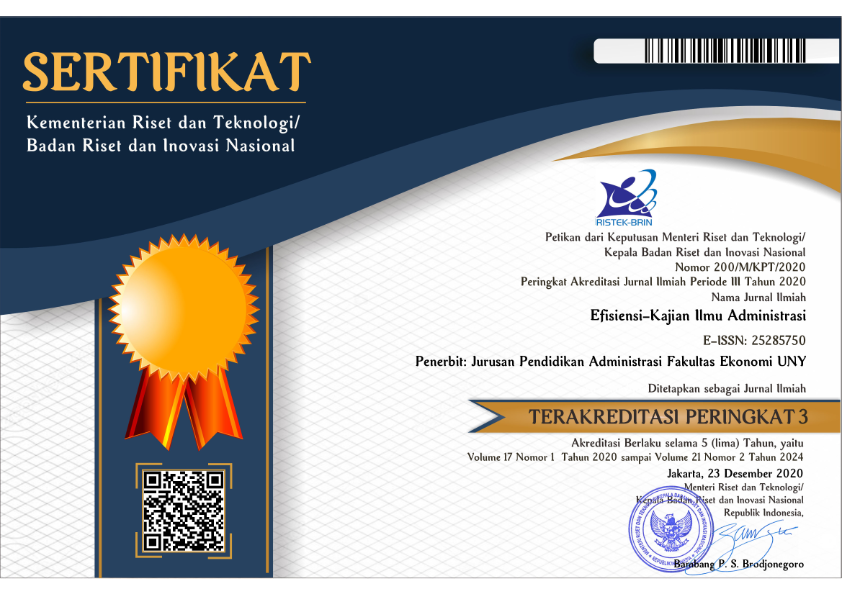 Efisiensi Vol.19 No. 2 Agustus 2022
The themes studied in this edition consist of entrepreneurship, taxation, online/distance learning, business communication, and human resources. The topic of study in the field of entrepreneurship discusses the model of entrepreneurship development and the influence of e-commerce in the family environment. In every entrepreneurial transaction there must be a tax, the next topic of discussion is related to the tax compliance behavior of every citizen. In addition, it also discusses business communication on facebook media. Entrepreneurship activities are inseparable from the pillars of economics in Indonesia, namely Cooperatives, discussed in detail about managerial abilities, quality of financial services, and participation of cooperative members. On the other hand, in the field of education, it is studied about the use of the WhatsApp application, learning motivation, readiness to learn, and students' perceptions in the implementation of distance learning / online / online.
Table of Contents
Articles
Siswanto Siswanto

, Universitas Negeri Yogyakarta, Indonesia

Andri Kurniawan

, Universitas Negeri Yogyakarta, Indonesia

10.21831/efisiensi.v19i2.48370

125-138
Dimas Cito Yuwono

, Sebelas Maret University, Indonesia

Wiedy Murtini

, Sebelas Maret University, Indonesia

Anton Subarno

, Sebelas Maret University, Indonesia

10.21831/efisiensi.v19i2.51906

139-148
Riana Isti Muslikhah

, Universitas Negeri Yogyakarta, Indonesia

Arwan Nur Ramadhan

, (Sinta ID: 5995719) Universitas Negeri Yogyakarta, Indonesia

Siti Umi Khayatun Mardiyah

, Universitas Negeri Yogyakarta, Indonesia

Muhyadi Muhyadi

, Universitas Negeri Yogyakarta, Indonesia

10.21831/efisiensi.v19i2.53577

149-160
Sahat Siagian

, https://orcid.org/0000-0003-1198-3981; ID SCOPUS 57203394085; ID GS AsqLpIUAAAAJ; ID SINTA 6160289, Universitas Negeri Medan, Indonesia, Indonesia

Ali Fikri Hasibuan

, Universitas Negeri Medan, Indonesia

Tri Andri Hutapea

, Universitas Negeri Medan, Indonesia

Rangga Restu Prayogo

, Universitas Negeri Medan, Indonesia

10.21831/efisiensi.v19i2.43125

161-175
Selfiana Selfiana

, Universitas Bina Insani, Indonesia

Erna Dwi Pitri Yanti

, Universitas Bina Insani, Indonesia

Ella Nurlela

, , Indonesia

Ditya Saputro Aji

, , Indonesia

10.21831/efisiensi.v19i2.45543

176-198