RECOVERY OF GOLD (Au) AND SILVER (Ag) METALS IN THE ELECTRONIC WASTE THROUGH MULTILEVEL PRECIPITATION PROCESS
Abstract
This research aims to determine the percent recovery of gold (Au) and silver (Ag) in the electronic waste such as CD-RW and determine the purity of gold and silver metals in the electronic waste such as CD-RW that through multilevel precipitation process. The first step was the optimization of the concentration of thiourea and time dissolution of gold and silver in the sample. The concentration of thiourea and the time dissolution optimum obtained from conentration of gold and silver maximum. By The percent recovery of gold and silver are determined by comparing the concentration of gold and silver between in the solution sample and in the sample without dissolution that be analyzed by XRF. The scond step was the multilevel precipitation process and calcination. Precipitation and calcination of the filtrat was dissolution results in the optimum condition. Reagent used was a solution of hydrochloric acid and potassium carbonate. The precipitation gold and silver produced from the precipitation of dissolution again and then be analyzed by atomic absorption spectrophotometry. The purity was determined by comparing the weight of gold and silver between in the precipitate and in the solution.  The results of this research showed that the percent recovery of the silver in the CD-RW through the process dissolution with thiourea 10 g/L and 4 hours soaking time were 21.09 %. The purity silver preipitate were 0.15 %. The percent recovery and the purity of gold can  not be determined because the gold contained in the sample were not detected or below the limit of detection equipment.
Keywords: recovery, gold, silver, electronic  waste
DOI:
https://doi.org/10.21831/jsd.v4i2.9099
Refbacks
There are currently no refbacks.
Copyright (c) 2016 Jurnal Sains Dasar
=======================================================================================================================================================
=======================================================================================================================================================
Indexer :












=======================================================================================================================================================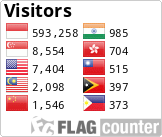 View My Stats