ANALYSIS OF RELATION TERM BETWEEN CUMMULATIVE PERFORMANCE INDEX AND SNMPTN DATA BASE USING APPRIORITY ALGORITHM
Abstract
In the university management, in addition to resources infrastructure, facilities and people, information systems is one of the resources that can be utilized to enhance the competitive advantage and provide accurate data for the benefit of policy makers, for example, information about the test scores SNMPTN, region of origin students, GPA student, students study duration. Yogyakarta State University to accept new students with an average of approximately 6,000 people annually, through the National Selection of State Universities Student (SNMPTN), SBMPTN (Joint Student Selection State University) and the Independent Selection exam (SM). With the increasing number of prospective students through SBMPTN, then increasingly also the basic data in a database of prospective students annually. By utilizing basic data on SBMPTN students and grade point average (GPA), the study aims to apply data mining techniques using the association rule Apriori algorithm to look for patterns of association between baseline SBMPTN and UNY students GPA. Basic data to be processed SBMPTN mining student data origin include school, home school district data, earnings data parent, parental education level data, the average value data UAN, and data values academic potential test (TPA). The results obtained are no data in the data base SNMPTN that significantly affect the acquisition of GPA. This is evident from the association rules derived from the 50 best asosoasi rules not seen the emergence of itemset GPA accompanied by the emergence of other itemset.
Keywords: Data Mining, Association Rule, Algoritma Apriori, SNMPTN
DOI:
https://doi.org/10.21831/jsd.v4i2.9092
Refbacks
There are currently no refbacks.
Copyright (c) 2016 Jurnal Sains Dasar
=======================================================================================================================================================
=======================================================================================================================================================
Indexer :












=======================================================================================================================================================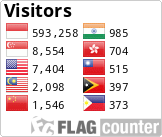 View My Stats