SYNTHESIS AND CHARACTERIZATION OF BIODEGRDABLE PLASTIC FROM CASAVA STARCH AND ALOE VERA EXTRACT WITH GLYCEROL PLASTICIZER
Abstract
Synthesis and characterizations of Biodegradable Plastic made of Cassava Waste Starch, glycerol, acetic acid and Aloe vera extract has done. The aims of this research are to study the influence of addition of aloe vera extract in plastics mechanics properties, water vapor transmission rate and biodegradation. There are five main steps in this research, extraction of aloe vera, cassava starch preparation from cassava waste, preparations, characterization and biodegradability study of biodegradable plastic. The addition variations of aloe vera extract that used in this research are 0.01; 0.03; 0.05; 0.07 and 0.14 grams. Results showed that the addition of aloe Vera tends to increased biodegrable plastic thickness to 0.01 mm and elongation to 32.07%. However, biodegradable plastic tensile strength tends to decreased to 23.95 Mpa. Optimum tensile strength is 3.90 Mpa and elongation is 34.43%. Optimum water vapor transmission rate is 2.40 g/m2hours. Biodegradation study of biodegradable plastic showed that addition of aloe vera extract doesn't significantly influence in plastic degradations.
DOI:
https://doi.org/10.21831/jsd.v4i2.9090
Refbacks
There are currently no refbacks.
Copyright (c) 2016 Jurnal Sains Dasar
==========================================================================================================
==========================================================================================================
Indexer :











==========================================================================================================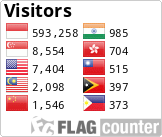 ==========================================================================================================