SILICA PURIFICATION FORM MERAPI VOLCANO SAND AS PHOTOVOLTAIC RAW MATERIALS
Abstract
Purification of silica sand volcanic Mount Merapi has been done, for raw material photovoltaic. Leaching purification process is done using aqua regia solution, H2SO4, and HCl. Purification of silica sand of Mount Merapi as a raw material photovoltaic assumes that photovoltaic technologies that utilize solar energy is quite affordable, do not run out, and clean so that it will provide long term benefits are substantial. Stage purification process through grinding up to size 60 mesh, iron using magnetic separation, leaching of acid and alkaline leaching. Characterization of the samples using XRD and XRF. The result showed that Mount Merapi volcanic sand containing silica is high at 48-50%. XRD characterization results indicate that the silica in sand samples well as silicon dioxide or mineral has amorphous structure. Among aqua regia, H2SO4 and HCl leaching that has the ability to nicest namely the concentration of concentrated HCl and purified silica has a purity of 59%.
Keywords: purification, silica, volcano sand
DOI:
https://doi.org/10.21831/jsd.v4i2.9087
Refbacks
There are currently no refbacks.
Copyright (c) 2016 Jurnal Sains Dasar
=======================================================================================================================================================
=======================================================================================================================================================
Indexer :












=======================================================================================================================================================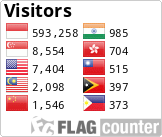 View My Stats