FACTORS INFLUENCING JOB FATIGUE AND STRESS AMONG EMPLOYEES OF YOGYAKARTA STATE UNIVERSITY ION COLUMN TECHNIC WITH LOCAL ZEOLITE AND ACTIVE CARBON
Abstract
Stress and fatigue related to workplace may interrupt with the effectivity and productivity workers, including the employees who work in the office. This research aims to determine the level of stress and fatigue related to workplace and to describe determinant factors invloved in job stress and musculosceletal fatigue. It is designed as an analytical survey, designed as cross sectional approach. Population were the employees of Yogyakarta State University, samples were taken with purposive sampling technique. The respondents were they who fulfilled the inclusion criteria. Job stress and fatigue were taken with observation and structured intervie, using adapted instrument from Berutu Soetopo (2010) and Andininsari (2009). Musculosceletal fatigue were measured with nordic body map method. Other paramater included anthropometry and ergonometry measurement and individual characteristics. The finding shows that most respondents (95%) suffered mild job stress and more than half of respondents (73%) had mild musculosceletal fatigue. About 60% of workplace facilities were not suitable according to ergonomic requirement. Determinant factors for job stress such as age, employment status and workplace ergonometry, while determinant factors for musculosceletal fatigue includes age body mass index and also ergonometry.
Keywords: workplace, stress, fatigue, musculosceletal
DOI:
https://doi.org/10.21831/jsd.v4i2.9086
Refbacks
There are currently no refbacks.
Copyright (c) 2016 Jurnal Sains Dasar
=======================================================================================================================================================
=======================================================================================================================================================
Indexer :












=======================================================================================================================================================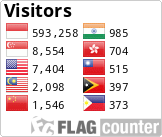 View My Stats