Cellulose production from modified cassava skin 2-mercaptobenzotiazole for controlling cadmium (II) metal pollution
Abstract
The research study of cadmium (II) metal ion adsorption in a solution by 2-mercaptobenzotiazole modified cellulose and unmodified cellulose had been done. The aims of this research are to know the ability of 2-mercaptobenzotiazole modified and unmodified celluloses for adsorbing cadmium (II) metal ion with the composition of modification. The modification processes of cellulose were done by the composition variation between cellulose and MBT of 1:1, 1:2, and 1:3. The adsorption process of metal ions by 2-mercaptobenzotiazole modified cellulose were done by shaking at pH 3, 4, 5, 6, 7, 8, and 9 with the effect of metal ions concentration of 0.05; 0.1; 0,15; 0,2, and 0,25 mg/L. The analysis of functional groups of cellulose-MBT and cellulose unmodified was using FTIR Spectrophotometer. The analysis of cadmium (II) concentration metal ions as cadmium metals were done by atomic absorption spectrophotometer (AAS). The result of this research showed that on the functional groups which derived from FTIR spectrum, there was some similarity of functional groups between unmodified cellulose and MBT-cellulose which could be seen from the wave length of C-S stretching at 663.51 cm-1; functional group of C-H aromatic stretching at 3749.62 cm-1; functional group of C-N at 1319.31 cm-1, and functional group of C=N that came from diazole  functional group (-N=C-S) which could be seen at 1597.06 cm-1. The optimum adsorption metal ions cadmium by MBT-cellulose happened at 1:2 composition modification, pH 4, and at the concentration of 0.2 mg/L.
Key words: adsorption, modified, cadmium (II) metal ion, cellulose, 2-merkaptobenzotiazole
DOI:
https://doi.org/10.21831/jsd.v3i2.4143
Refbacks
There are currently no refbacks.
Copyright (c)
=======================================================================================================================================================
=======================================================================================================================================================
Indexer :












=======================================================================================================================================================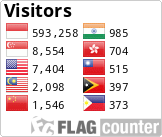 View My Stats