SPECIES INVENTORY OF AMPHIBIOUS FISH IN INTERTIDAL ZONE OF NGRENEHAN, NGOBARAN AND NGUYAHAN COASTELS, GUNUNG KIDUL, YOGYAKARTA
Abstract
Tropical region is high on faunal diversity including vertebrates and invertebrates. Research on diversity of amphibious fish in Intertidal zone of  Yogyakarta southern coast is still limited so there is no complete records regarding these unique fish. This research aimed to know the diversity of amphibious fish in three beaches of Yogyakarta southern coast, namely pantai Ngrenehan, Ngobaran dan Nguyahan. Fish sampling were conducted using random sampling method combined with observational method. Fish were collected using small nets then identified to species rank. The total length of each fish were measured and recorded. Few individuals of the same species were sacrificed as voucher specimens. The result showed that in pantai Ngrenehan, Ngobaran, and Nguyahan, five different species of amphibius fish were found, which are Cabillus lacertops, Bathygobius fuscus, Enneapterygus sp., Blenniella cyanostigma, and Blenniella caudolineata. Cabillus lacertops was found in all of sampling locations. Enneapterygus sp. was found in pantai Nguyahan while Bathigobius fuscus, and Blenniella caudolineata can only be found in pantai Ngrenehan. Further studies regarding the adaptation, ecological features, taxonomy and biological reproduction of Yogyakarta southern coast's  amphibious fish are still needed.
Keywords: Inventarization, amphbious fish, intertidal zone, Yogyakarta southern coast
DOI:
https://doi.org/10.21831/jsd.v4i2.12122
Refbacks
There are currently no refbacks.
Copyright (c) 2016 Jurnal Sains Dasar
=======================================================================================================================================================
=======================================================================================================================================================
Indexer :












=======================================================================================================================================================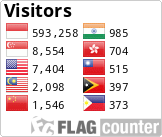 View My Stats