Jurnal Sains Dasar is a peer-reviewed scholarly publication in the area of basic sciences that publishes original paper based on research results in the field of: mathematics, chemistry, physics, and biology. Jurnal Sains Dasar is issued and published twice a year (April and October) by Faculty of Mathematics and Natural Sciences, Yogyakarta State University and is reviewed by a group of eminent researchers.
Jurnal Sains Dasar is registered with ISSN 2085-9872  (printed) and ISSN 2443-1273 (online).
Based on editorial team discussion, starting from 2019 Jurnal Sains Dasar publishes 6 articles in each edition.
Quick access:  JSD Article Template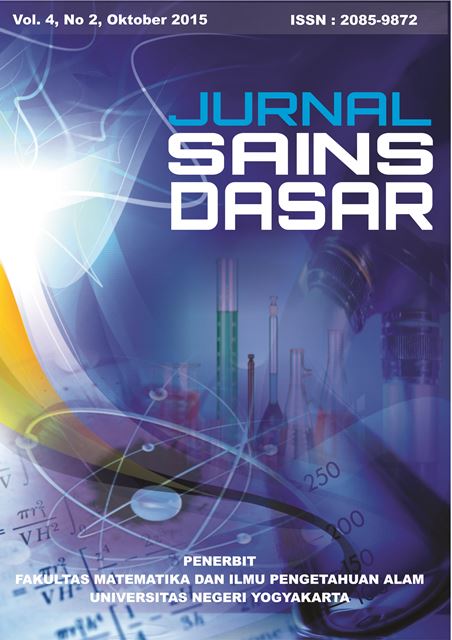 Editorial Board Office
Kantor Jurnal Sains Dasar
Faculty of Mathematics and Natural Sciences, Yogyakarta State University
Jalan Kolombo No. 1 Karangmalang Yogyakarta 55281
Telepon: (0274) 586168 Psw. 217
Faximile: (0274) 548203
Email : jsduny@gmail.com
==========================================================================================================
Vol 10, No 2 (2021): October 2021
Table of Contents
Articles
Agung Budi Wirawan

, Program Studi Matematika, Fakultas Matematika dan Ilmu Pengetahuan Alam, Universitas Negeri Yogyakarta, Indonesia

Karyati Karyati

, Program Studi Matematika, Fakultas Matematika dan Ilmu Pengetahuan Alam, Universitas Negeri Yogyakarta, Indonesia

10.21831/j. sains dasar.v10i2.41805

36-43
Lalu A. Didik

, Program Studi Tadris Fisika, Fakultas Tarbiyah dan Keguruan, Universitas Islam Negeri Mataram, Indonesia

Isniwana Damayanti

, Program Studi Tadris Fisika, Fakultas Tarbiyah dan Keguruan, Universitas Islam Negeri Mataram, Indonesia

Jumliati Jumliati

, Program Studi Tadris Fisika, Fakultas Tarbiyah dan Keguruan, Universitas Islam Negeri Mataram, Indonesia

Putri Dinda Alfadia Lestari

, Program Studi Tadris Fisika, Fakultas Tarbiyah dan Keguruan, Universitas Islam Negeri Mataram, Indonesia

10.21831/j. sains dasar.v10i2.42217

44-50
Ardiansyah Kurniawan

, Jurusan Akuakultur, Universitas Bangka Belitung,, Indonesia

Teguh Willy Nugroho

, Balai Taman Nasional Sebangau, Indonesia

Ira Triswiyana

, Penyuluh Perikanan Kabupaten Bangka Barat, Kementerian Kelautan dan Perikanan, Indonesia

Anik Martinah Hariati

, Fakultas Perikanan dan Ilmu Kelautan, Universitas Brawijaya, Indonesia

Andi kurniawan

, Fakultas Perikanan dan Ilmu Kelautan, Universitas Brawijaya, Indonesia

Dewa Gede Raka Wiadnya

, Fakultas Perikanan dan Ilmu Kelautan, Universitas Brawijaya, Indonesia

10.21831/j. sains dasar.v10i2.42476

51-56
Rita Prasetyowati

, Jurusan Pendidikan Fisika, Fakultas Matematika dan Ilmu Pengetahuan Alam, Universitas Negeri Yogyakarta, Indonesia

Dede Widiawati

, Jurusan Pendidikan Fisika, Fakultas Matematika dan Ilmu Pengetahuan Alam, Universitas Negeri Yogyakarta, Indonesia

Pinaka Elda Swastika

, Jurusan Pendidikan Fisika, Fakultas Matematika dan Ilmu Pengetahuan Alam, Universitas Negeri Yogyakarta, Indonesia

Ariswan Ariswan

, Jurusan Pendidikan Fisika, Fakultas Matematika dan Ilmu Pengetahuan Alam, Universitas Negeri Yogyakarta, Indonesia

Warsono Warsono

, Jurusan Pendidikan Fisika, Fakultas Matematika dan Ilmu Pengetahuan Alam, Universitas Negeri Yogyakarta, Indonesia

10.21831/j. sains dasar.v10i2.43043

57-61
Tasya Rahmadhani

, Jurusan Pendidikan Biologi, Fakultas Matematika dan Ilmu Pengetahuan Alam, Universitas Negeri Yogyakarta, Indonesia

Yunita Fera Rahmawati

, Jurusan Pendidikan Biologi, Fakultas Matematika dan Ilmu Pengetahuan Alam, Universitas Negeri Yogyakarta, Indonesia

Raihanatu Qalbi

, Jurusan Pendidikan Biologi, Fakultas Matematika dan Ilmu Pengetahuan Alam, Universitas Negeri Yogyakarta, Indonesia

Nada Fithriyyah H. P.

, Jurusan Pendidikan Biologi, Fakultas Matematika dan Ilmu Pengetahuan Alam, Universitas Negeri Yogyakarta, Indonesia

Selma Nafilatul Husna

, Jurusan Pendidikan Biologi, Fakultas Matematika dan Ilmu Pengetahuan Alam, Universitas Negeri Yogyakarta, Indonesia

10.21831/j. sains dasar.v10i2.43912

69-73