---
| | |
| --- | --- |
| Journal title | Jurnal Penelitian Saintek |
| Initials | Saintek |
| Abbreviation |  J. P. Saintek |
| Frequency | 2 issues per year |
| DOI | Prefix 10.21831 by   |
| ISSN | 1412-3991 (Print) | 2528-7036 (Online) |
| Editor-in-chief | Prof. Dr. Sriatun |
| Publisher | Universitas Negeri Yogyakarta |
| Citation | Sinta | Google Scholar | Garuda | Dimension |
Jurnal Penelitian Saintek is an open-access journal that publishes articles relating to the development of science and technology based on research results that have never been published.
Jurnal Penelitian Saintek (JPS) merupakan jurnal akses terbuka yang menerbitkan artikel yang berkaitan dengan pengembangan ilmu pengetahuan alam dan teknologi berdasarkan hasil penelitain yang belum pernah diterbitkan baik di dalam maupun di luar negeri
Jurnal penelitian SAINTEK telah terakreditasi S3. Sehubungan dengan hal tersebut,penulis yang artikelnya dipublikasikan mulai edisi April 2019 diwajibkan untuk memenuhi kewajiban administrasi.
Informasi lebih lanjut klik DI SINI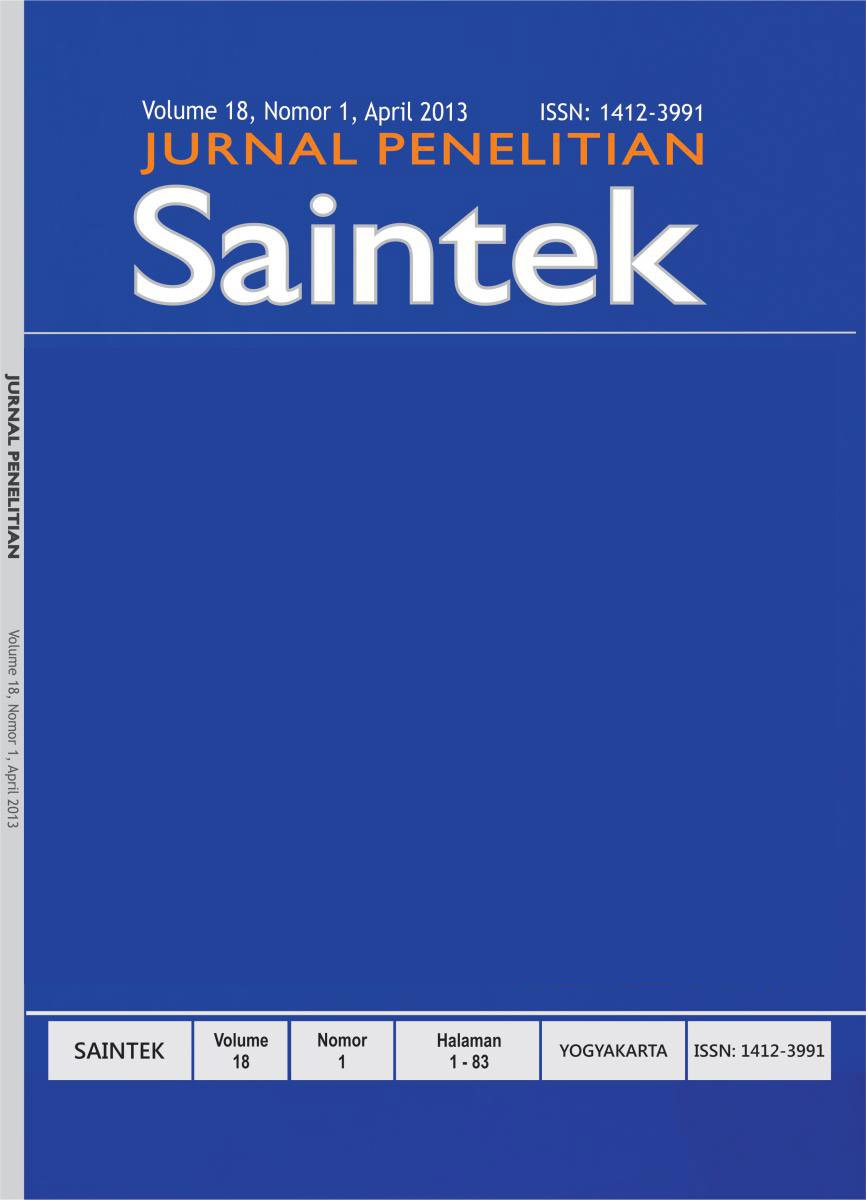 Announcements
No announcements have been published.
Vol 28, No 2 (2023)
Table of Contents
Articles
Angga Bintang Narzassi

, Universitas Gadjah Mada, Indonesia

Nata Dwi Annisa Nizma

, Universitas Gadjah Mada, Indonesia

Salma Mutiara Tsani

, Universitas Gadjah Mada, Indonesia

Seonarwan Hery Poerwanto

, Universitas Gadjah Mada, Indonesia

Budi Setiadi Daryono

, Universitas Gadjah Mada, Indonesia

10.21831/jps.v1i2.66808
Muzdalifah Alya Amalia Manese

, Pascasarjana Universitas Negeri Gorontalo, Indonesia

Marini Susanti Hamidun

, Universitas Negeri Gorontalo, Indonesia

Dewi Wahyuni K. Baderan

, Universitas Negeri Gorontalo, Indonesia

10.21831/jps.v1i2.66447
Samsurizal Samsurizal

, Institut Teknologi PLN, Indonesia

Andi Makkulau

, Institut Teknologi PLN, Indonesia

Finka Rizkina Sani

, Institut Teknologi PLN, Indonesia

Rio Afrianda

, Institut Teknologi PLN, Indonesia

10.21831/jps.v1i2.59692
ayu syahputri ramadhani

, Gadjah Mada University, Indonesia

Purnomo Purnomo

, Gadjah Mada University

10.21831/jps.v1i2.50830
Siti Marwati Marwati

, Departemen Pendidikan Kimia FMIPA UNY, Indonesia

Isana Supiah Yosephine Louise

, Departemen Pendidikan Kimia FMIPA UNY, Indonesia

Regina Tutik Padmaningrum

, Departemen Pendidikan Kimia FMIPA UNY, Indonesia

Aprilia Rahmawati

, Departemen Pendidikan Kimia FMIPA UNY, Indonesia

Zahra Hamida

, Departemen Pendidikan Kimia FMIPA UNY, Indonesia

Ardhita Julia

, Departemen Pendidikan Kimia FMIPA UNY, Indonesia

10.21831/jps.v1i2.67098