| | |
| --- | --- |
| Journal title | Jurnal Civics: Media Kajian Kewarganegaraan |
| Initials | JC |
| Abbreviation | j.civics |
| Frequency | 2 issues per year (April and October) |
| DOI | prefix 10.21831 |
| Online ISSN | 2541-1918 |
|   |   |
Jurnal Civics: Media Kajian Kewarganegaraan is the official journal of Universitas Negeri Yogyakarta in collaboration with Asosiasi Profesi Pendidikan Pancasila dan Kewarganegaraan Indonesia (Indonesia Association Profession of Pancasila and Civic Education/AP3KnI).
Jurnal Civics: Media Kajian Kewarganegaraan is a peer-reviewed journal that focuses on scholarly and professional studies in the discourse and practice of citizenship in the dimensions and perspectives of cultural diversity, equality and social justice in the context of socio-economic, education and learning citizenship in the local, national and global scope, related to issues of social responsibility and morals, community involvement and political literacy,  and law awareness.
The TEMPLATE click HERE. The MOU with AP3KnI click HERE.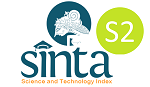 This journal has been ACCREDITED by National Journal Accreditation (ARJUNA) Managed by Ministry of Research and Technology, Republic Indonesia with Sinta 2 since 2020 to 2024 according to the decree Nomor 200/E/KPT/2020.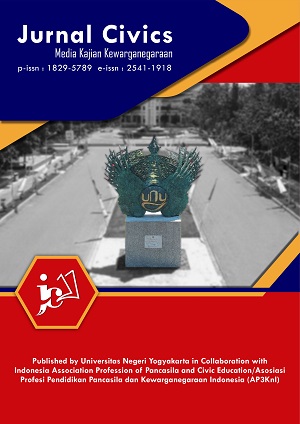 Announcements
No announcements have been published.
Vol 19, No 2 (2022): October 2022
Table of Contents
Article
Rifai Rifai

, Public Administration Study Program, Sekolah Tinggi Ilmu Sosial dan Politik (STISIP) Mbojo, Bima, Indonesia

10.21831/jc.v19i2.53444

175-185
Muhammad Japar

, Pancasila and Civic Education Study Program, Universitas Negeri Jakarta, Jakarta, Indonesia

Dini Nur Fadhillah

, Department of Research and Community Service, Universitas Binawan, Jakarta, Indonesia

Wichaya Komin

, Social Research Institutes, Chulalongkorn University, Bangkok, Thailand

Yuyus Kardiman

, Pancasila and Civic Education Study Program Universitas Negeri Jakarta, Jakarta, Indonesia

Triyanto Triyanto

, Pancasila and Civic Education Study Program, Universitas Sebelas Maret, Surakarta, Indonesia

Sarkadi Sarkadi

, Pancasila and Civic Education Study Program Universitas Negeri Jakarta, Jakarta, Indonesia

10.21831/jc.v19i2.53547

186-195
Efriani Efriani

, Anthropology Study Program, Universitas Tanjungpura, Pontianak, Indonesia

Jagad Aditya Dewantara

, Pancasila and Civic Education Study Program, Universitas Tanjungpura, Pontianak, Indonesia

Sulistyarini Sulistyarini

, Pancasila and Civic Education Study Program, Universitas Tanjungpura, Pontianak, Indonesia

Nahot Tua Parlindungan Sihaloho

, Governance Studies Study Program, Universitas Tanjungpura, Pontianak, Indonesia

Afandi Afandi

, Biology Education Study Program, Universitas Tanjungpura, Pontianak, Indonesia

Soeharto Soeharto

, School of Education, University of Szeged, Szeged, Hungary

10.21831/jc.v19i2.52550

196-212
Yayuk Hidayah

, Pancasila and Civic Education Study Program, Universitas Negeri Yogyakarta, Sleman, Indonesia

Cheong Su Fen

, Preschool Market, Singapore, Singapore

Anis Suryaningsih

, Pancasila and Civic Education Study Program, Universitas Sebelas Maret, Surakarta, Indonesia

Sukron Mazid

, Mathematic Education Study Program, Universitas Tidar, Magelang, Indonesia

10.21831/jc.v19i2.53422

213-223
Zulkifli Zulkifli

, Department of Management, Universitas Malikussaleh, Indonesia

Arief Rahman

, Department of Aquaculture, Universitas Malikussaleh, Indonesia

Martina Martina

, Department of Agribusiness, Universitas Malikussaleh, Indonesia

Rizka Mumtiza

, Department of Accounting, Universitas Malikussaleh, Indonesia

Mauliza Risma

, Department of Accounting, Universitas Malikussaleh, Indonesia

10.21831/jc.v19i2.52631

224-234
Umi Chotimah

, Pancasila and Civic Education, Universitas Sriwijaya, Indralaya, Indonesia

Hermi Yanzi

, Civic Education Study Program, Universitas Lampung, Bandar Lampung, Indonesia

Kurnisar Kurnisar

, Pancasila and Civic Education Study Program, Universitas Sriwijaya, Indralaya, Indonesia

Emil El Faisal

, Pancasila and Civic Education Study Program, Universitas Sriwijaya, Indralaya, Indonesia

Muhammed Yusuf

, Faculty of Human Development, Universiti Pendidikan Sultan Idris, Tanjung Malim, Perak,, Malaysia

Emi Susanti

, Pancasila and Civic Education Study Program, Universitas Sriwijaya, Indralaya

10.21831/jc.v19i2.45430

235-244
Dedy Ari Nugroho

, Pancasila and Civic Education Study Program, Universitas Lambung Mangkurat, Banjarmasin, Indonesia

Waris Yohn Candra Anwar

, Classroom eLearning & Technology Limited, Hong Kong, Hong Kong

10.21831/jc.v19i2.53562

245-254
Yusuf Faisal Ali

, Department of Pancasila and Civic Education, Sekolah Tinggi Keguruan dan Ilmu Pendikan Pasundan, Cimahi, Indonesia

10.21831/jc.v19i2.53371

255-261
Irzal Anderson

, Pancasila and Civic Education Study Program, Universitas Jambi, Jambi, Indonesia

Kuswanto Kuswanto

, Economy Education, Universitas Jambi, Jambi, Indonesia

10.21831/jc.v19i2.53007

262-277
Mohamad Syahri

, Pancasila and Civic Education Study Program, Universitas Muhammadiyah Malang, Malang, Indonesia

Arif Prasetyo Wibowo

, Pancasila and Civic Education Study Program, Universitas Muhammadiyah Malang, Malang, Indonesia

Arini Dyah Mustika Pratiwi

, Pancasila and Civic Education Study Program, Universitas Muhammadiyah Malang, Malang, Indonesia

Agus Tinus

, Pancasila and Civic Education Study Program, Universitas Muhammadiyah Malang, Malang, Indonesia

10.21831/jc.v19i2.52857

278-287
Mitra Permatasari

, Pancasila and Civic Education Study Program, Universitas Negeri Yogyakarta, Yogyakarta, Indonesia

Mukhamad Murdiono

, Pancasila and Civic Education Study Program, Universitas Negeri Yogyakarta, Yogyakarta, Indonesia

Chandra Dewi Puspitasari

, Pancasila and Civic Education Study Program, Universitas Negeri Yogyakarta, Yogyakarta, Indonesia

10.21831/jc.v19i2.46750

288-302
Rika Sartika

, Sociology Education Study Program, Universitas Pendidikan Indonesia, Bandung, Indonesia

Wina Nurhayati Praja

, Communication Study Program, Universitas Pendidikan Indonesia, Bandung, Indonesia

Abdul Azis

, Sociology Education Study Program, Universitas Pendidikan Indonesia, Bandung, Indonesia

10.21831/jc.v19i2.48285

303-309
Edi Sofwan

, Department of Law, Universitas Pamulang, Banten, Indonesia

Muhammad Sopiyana

, Department of Law, Universitas Pamulang, Banten, Indonesia

Ali Masykur Fathurrahman

, Department of Civic Education and Law, Universitas Negeri Yogyakarta, Yogyakarta, Indonesia

10.21831/jc.v19i2.53464

310-319
Eko Digdoyo

, Department of Communication Sciences, Universitas Muhammadiyah Prof. DR. HAMKA, Indonesia

Mukhlish Muhammad Maududi

, Department of Communication Sciences, Universitas Muhammadiyah Prof. DR. HAMKA

10.21831/jc.v19i2.53527

320-328
Makarius Erwin Bria

, Pancasila and Civic Education Study Program, Universitas Nusa Cendana, Indonesia

Kee Fui Turner Lam

, Edu-Aequitas Pte Ltd, Singapore, Singapore

10.21831/jc.v19i2.53541
Sri Hartini

, Pancasila and Civic Education Study Program, Universitas Negeri Yogyakarta, Sleman, Indonesia

Fathikah Fauziah Hanum

, Pancasila and Civic Education Study Program, Universitas Negeri Yogyakarta, Sleman, Indonesia

Anang Priyanto

, Pancasila and Civic Education Study Program, Universitas Negeri Yogyakarta, Sleman, Indonesia

10.21831/jc.v19i2.53409