| | |
| --- | --- |
| Journal title | Jurnal Civics: Media Kajian Kewarganegaraan |
| Initials | JC |
| Abbreviation | j.civics |
| Frequency | 2 issues per year (April and October) |
| DOI | prefix 10.21831 |
| Online ISSN | 2541-1918 |
|   |   |
Jurnal Civics: Media Kajian Kewarganegaraan is the official journal of Universitas Negeri Yogyakarta in collaboration with Asosiasi Profesi Pendidikan Pancasila dan Kewarganegaraan Indonesia (Indonesia Association Profession of Pancasila and Civic Education/AP3KnI).
Jurnal Civics: Media Kajian Kewarganegaraan is a peer-reviewed journal that focuses on scholarly and professional studies in the discourse and practice of citizenship in the dimensions and perspectives of cultural diversity, equality and social justice in the context of socio-economic, education and learning citizenship in the local, national and global scope, related to issues of social responsibility and morals, community involvement and political literacy,  and law awareness.
The TEMPLATE click HERE. The MOU with AP3KnI click HERE.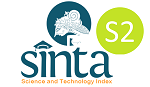 This journal has been ACCREDITED by National Journal Accreditation (ARJUNA) Managed by Ministry of Research and Technology, Republic Indonesia with Sinta 2 since 2020 to 2024 according to the decree Nomor 200/E/KPT/2020.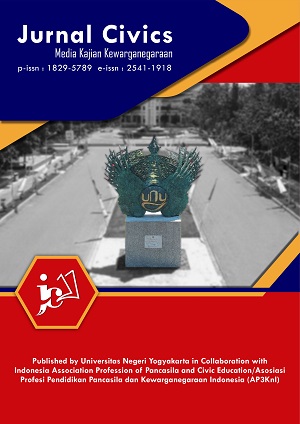 Announcements
FUTURE ISSUES

The articles displayed here are "accepted" articles but are still in the process of editing. If there is no return from the author until the deadline, the article will not be published. Papers will be accepted and published only when the editor is satisfied with the changes made.

The strategy of integrating tolerance values into civics learning in inclusive school

Fulfillment of the Mandailing Community Suffrage Right in the 2020 Regional Head Election in Sungai Kanan, South Labuhanbatu

Students Multicultural Awareness of Aceh Dormitory in Yogyakarta

Analysis of the Debate on the Concept of the State and Citizens in the BPUPK Meeting Treatise

Young digital citizen answers: can online learning improve the quality of civic education learning?

Analysis of the choice of off-campus learning activities program in the independent learning-campus independent policy for civic education students

The implications of the green constitution movement program in creating awareness of law for river border community in the village of Sungai Lumbah, Alalak District, Batola Regency

Perlindungan hukum bagi peserta didik pada sekolah menengah kejuruan selama melaksanakan praktik kerja lapangan di masa pandemi covid-19

Gagasan filosofis kultural Sam Ratulangi dan implikasinya dalam sila kemanusiaan yang adil dan beradab

 

Posted: 2021-01-28
More...
Vol 18, No 2 (2021): Civic Education, Law, Culture, and Pandemic
Table of Contents
Front
Article
Hemafitria Hemafitria

, Program Studi PPKn IKIP PGRI Pontianak, Indonesia

Erna Octavia Octavia

, Program Studi PPKn IKIP PGRI Pontianak, Indonesia

10.21831/jc.v18i2.40028

179-190
Sandey Tantra Paramitha

, Program Studi Ilmu Keolahragaan, Universitas Pendidikan Indonesia, Indonesia

Muhamad Fahmi Hasan

, Department of Sports Science, School of Pharmacy, Institut Teknologi Bandung, Indonesia

Leni Anggraeni

, Departemen Pendidikan Kewarganegaraan, Universitas Pendidikan Indonesia, Indonesia

Marisa Noviyanti Fajrah Ilsya

, Program Studi Pendidikan Jasmani Kesehatan dan Rekreasi, Universitas Pendidikan Indonesia, Indonesia

Muhamad Gilang Ramadhan

, Program Studi Pendidikan Olahraga, Universitas Pendidikan Indonesia, Indonesia

Apriya Maharani Rustandi

, Program Studi Pendidikan Olahraga, Universitas Pendidikan Indonesia, Indonesia

Hikmat Kodrat

, Program Studi Pendidikan Olahraga, Universitas Pendidikan Indonesia, Indonesia

10.21831/jc.v18i2.42249

191-199
Winarno Winarno

, Program Studi Pendidikan Pancasila dan Kewarganegaraan Universitas Sebelas Maret, Indonesia

Muchtarom Muchtarom

, Program Studi Pendidikan Pancasila dan Kewarganegaraan Universitas Sebelas Maret, Indonesia

Erna Yuliandari

, Program Studi Pendidikan Pancasila dan Kewarganegaraan Universitas Sebelas Maret, Indonesia

10.21831/jc.v18i2.40580

200-206
Abdul Azis

, Prodi Pendidikan Sosiologi FPIPS Universitas Pendidikan Indonesia, Indonesia

Maftuhin Maftuhin

, Prodi Pendidikan Sosiologi FPIPS Universitas Pendidikan Indonesia, Indonesia

Dadi Mulyadi Nugraha

, Prodi Survey Pemetaan dan Informasi Geografi FPIPS Universitas Pendidikan Indonesia, Indonesia

10.21831/jc.v18i2.40833

207-216
Rizal Fahmi

, Universitas Islam Syekh Yusuf, Indonesia

Tubagus Saputra

, Universitas Pendidikan Indonesia, Indonesia

Imam Solehudin

, SMP Taruna Bakti Bandung, Indonesia

Intan Indah Megasari

, SMAN 18 Bandung, Indonesia

Ari Febrian

, Grafindo Media Pratama, Indonesia

10.21831/jc.v18i2.41116

217-228
Elisabeth Rukmini

, Universitas Pembangunan Jaya, Indonesia

Pedy Artsanti

, Universitas Islam Indonesia, Indonesia

Arya Susila Nugraha

, Universitas Sanata Dharma, Indonesia

10.21831/jc.v18i2.39857

229-241
Rianda Usmi

, Prodi Magister Pendidikan Pancasila dan Kewarganegaraan, Universitas Negeri Yogyakarta, Indonesia

Mukhamad Murdiono

, Prodi Magister Pendidikan Pancasila dan Kewarganegaraan, Universitas Negeri Yogyakarta, Indonesia

10.21831/jc.v18i2.38885

242-256
Warneri Warneri

, Universitas Tanjungpura, Indonesia

Jagad Aditya Dewantara

, Universitas Tanjungpura, Indonesia

10.21831/jc.v18i2.42095

257-267
Ravita Mega Saputri

, Program Studi Magister Pendidikan Pancasila dan Kewarganegaraan, Fakultas Ilmu Sosial, Universitas Negeri Yogyakarta, Indonesia

Marzuki Marzuki

, Program Studi Pendidikan Pancasila dan Kewarganegaraan, Fakultas Ilmu Sosial, Universitas Negeri Yogyakarta, Indonesia

10.21831/jc.v18i2.38871

268-275
Suharno Suharno

, Program Studi Pendidikan Pancasila dan Kewarganegaraan Universitas Negeri Yogyakarta, Indonesia

10.21831/jc.v18i2.43607

276-285
Nurbani Yusuf

, Program Studi PPKn, Universitas Muhammadiyah Malang, Indonesia

Arif Prasetyo Wibowo

, Program Studi PPKn, Universitas Muhammadiyah Malang, Indonesia

10.21831/jc.v18i2.41499

286-295
Ryan Taufika

, Pancasila and Citizenship Education Study Program, Universitas Muhammadiyah Sumatera Utara, Medan, Indonesia

Tohap Pandapotan Simaremare

, Pancasila and Citizenship Education Study Program, Universitas Jambi, Jambi, Indonesia

Vinda Chairunnisa

, Counseling Guidance Study Program, Universitas Muslim Nusantara Al-Washliyah, Medan, Indonesia

Tengku Syarifah Nadhira

, Pancasila and Citizenship Education Study Program, Universitas Muhammadiyah Sumatera Utara, Medan, Indonesia

10.21831/jc.v18i2.44945

296-303
Farid Fadillah

, Program Studi Magister Pendidikan Pancasila dan Kewarganegaraan, Fakultas Ilmu Sosial, Universitas Negeri Yogyakarta, Indonesia

Suharno Suharno

, Program Studi Magister Pendidikan Pancasila dan Kewarganegaraan, Fakultas Ilmu Sosial, Universitas Negeri Yogyakarta, Indonesia

10.21831/jc.v18i2.40476

304-323
Nasiwan Nasiwan

, Program Studi Pendidikan Pancasila dan Kewarganegaraan Universitas Negeri Yogyakarta, Indonesia

10.21831/jc.v18i2.44173

324-333
Eny Kusadarini

, Program Studi Pendidikan Pancasila dan Kewarganegaraan Universitas Negeri Yogyakarta, Indonesia

Anang Priyanto

, Program Studi Pendidikan Pancasila dan Kewarganegaraan Universitas Negeri Yogyakarta, Indonesia

Sri Hartini

, Program Studi Pendidikan Pancasila dan Kewarganegaraan Universitas Negeri Yogyakarta, Indonesia

10.21831/jc.v18i2.44175

334-344
Iqbal Arpannudin

, Program Studi Doktor Pendidikan Kewarganegaraan Universitas Pendidikan Indoensia dan Program Studi S1 PPKn Universitas Negeri Yogyakarta, Indonesia

Karim Suryadi

, Departemen Pendidikan Kewarganegaraan, Universitas Pendidikan Indonesia, Indonesia

Elly Malihah

, Departemen Pendidikan Sosiologi, Universitas Pendidikan Indonesia, Indonesia

Leni Anggraeni

, Departemen Pendidikan Kewarganegaraan, Universitas Pendidikan Indonesia, Indonesia

10.21831/jc.v18i2.44155

345-350