| | |
| --- | --- |
| Print ISSN | 2088-2866 |
| Online ISSN | 2476-9401 |
| DOI Prefix | 10.21831 |
| Publisher | Graduate School of Universitas Negeri Yogyakarta in cooperation with Asosiasi Dosen dan Guru Vokasi Indonesia (ADGVI) (Memorandum of Understanding No. 3774/UN.34.17/PK/2011) |
| Editor in Chief | Prof. Pardjono Ph.D. |
| SINTA Score | S2 |
| Frequency | 3 (Three) Issues per year |
| Description | Jurnal Pendidikan Vokasi is published by Program Pascasarjana Universitas Negeri Yogyakarta or the Graduate School of Universitas Negeri Yogyakarta in cooperation with Asosiasi Dosen dan Guru Vokasi Indonesia (ADGVI) – Association of Vocational Lecturers and Teachers of Indonesia. The journal is aimed at publishing and disseminating the results of research and studies on vocational education conducted by researchers, teachers, and practitioners of vocational education and vocation. |
| Focus & Scope | The scope of Jurnal Pendidikan Vokasi includes philosophy, curriculum, learning, evaluation, management, and policies on vocational education. In addition, studies on the global scope related to technical and vocational education and training areas that become the object of the study can also be published in this journal. |
| OAI Address | https://journal.uny.ac.id/index.php/jpv/oai |
| Citation Analysis | |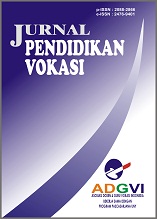 | | |
| --- | --- |
| | This journal has been ACCREDITED by National Journal Accreditation (ARJUNA) Managed by the Ministry of Research, Technology, and Higher Education, Republic Indonesia with Second Grade (Peringkat 2, Sinta 2) since the year 2020 to 2024 according to the decree 85/M/KPT/2020.  |

Before submission,
You have to make sure that your paper is prepared using the JPV paper TEMPLATE, has been carefully proofread and polished, and conformed to the author guidelines.  

Online Submissions

Registration and login are required to submit items online and to check the status of current submissions
Announcements
No announcements have been published.
Vol 12, No 2 (2022)
Full texts are being processed.
Table of Contents
Articles
| | | |
| --- | --- | --- |
| | Feri Ferdian, Hijriyantomi Suyuthie | |
| | | |
| --- | --- | --- |
| | Mochamad Abduh, Juliandri Hasnur, Syafni Yelvi Siska | |
| | | |
| --- | --- | --- |
| | Nisa Azhari Saragih, Gustianingsih Gustianingsih, Ridwan Hanafiah | |
| | | |
| --- | --- | --- |
| | Dandi Firman Dani, Sulaeman Deni Ramdani, Deddy Supriyatna | |
| | | |
| --- | --- | --- |
| | Lispiyatmini Lispiyatmini, Hermanto Hermanto | |
| | | |
| --- | --- | --- |
| | Sintha Wahjusaputri, Wati Sukmawati, Tashia Indah Nastiti, Via Noorlatipah | |
| | | |
| --- | --- | --- |
| | Dwi Rahdiyanta, Khusni Syauqi, Achmad Arifin | |
| | | |
| --- | --- | --- |
| | Apri Nuryanto, Rizki Ramadani | |
| | | |
| --- | --- | --- |
| | Titi Sumarni, Putu Sudira | |