Journal of Science Education Research is a journal published by Universitas Negeri Yogyakarta, which contains articles on research in Science and Education Science.
Vision
Become a media disseminating research results in the field of science and science education in Indonesia
Mission
Disseminating research results in science and science education
Journal Of Science Education Research with ISSN 2597-9701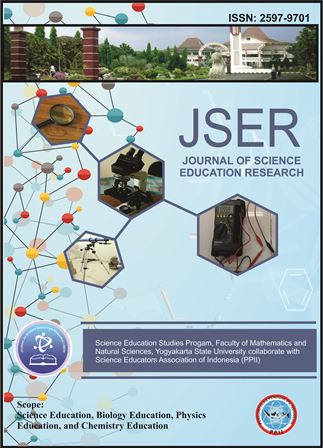 Editorial Board Office
Journal of Science Education Research
Department of Natural Science Education, Faculty of Mathematics and Natural Sciences, Yogyakarta State University
Jalan Kolombo No. 1 Karangmalang Yogyakarta 55281
Telepon: (0274) 586168 Psw. 217
Faximile: (0274) 548203
Email : 
Announcements
No announcements have been published.
Vol 2, No 1 (2018): JSER
Table of Contents
Articles
| | | |
| --- | --- | --- |
| | Fajar Fitri, Laifa Rahmawati | 9-12 |
| | | |
| --- | --- | --- |
| | Melkyanus Kaleka, Fara Dillah M Nur | 13-20 |
| | | |
| --- | --- | --- |
| | Soni Sukendar, Agus Setiawan | 25-30 |
| | | |
| --- | --- | --- |
| | Wita Setianingsih, Putri Anjarsari, Widodo Setiyo Wibowo, Astri Novitasari | 31-34 |
| | | |
| --- | --- | --- |
| | Erni Yulianti, Itsna Yunida Al Husna, Susilowati Susilowati | 35-38 |
| | | |
| --- | --- | --- |
| | Widodo Setiyo Wibowo, Sabar Nurohman, Allesius Maryanto | 39-46 |