Journal of Science Education Research is a journal published by Universitas Negeri Yogyakarta, which contains articles on research in Science and Science Education.
Journal Of Science Education Research with ISSN 2597-9701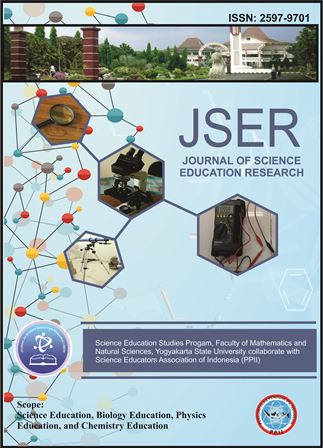 Editorial Board Office
Journal of Science Education Research
Department of Natural Science Education, Faculty of Mathematics and Natural Sciences, Yogyakarta State University
Jalan Kolombo No. 1 Karangmalang Yogyakarta 55281
Telepon: (0274) 586168 Psw. 217
Faximile: (0274) 548203
Email : 
Announcements
No announcements have been published.
Vol 2, No 2 (2018): JSER
Table of Contents
Articles
Widodo Setiyo Wibowo, Ekosari Roektiningroem, Norma Bastian, Karina Syahrul Hudda

10.21831/jser.v2i2.22471

71-76
Eka Nurlita Anggraeni, Inggrid Ayu Amala, Iwan Wicaksono, Aris Singgih Budiarso

10.21831/jser.v2i2.22477

77-79
Rangga Sena Aji Hamisesa, Fitri Handayani Nataliya, Reno Nurdiyanto, Pujianto Pujianto

10.21831/jser.v2i2.22479

85-96