Jurnal Ilmu Manajemen (JIM), with registered number ISSN 1693-7910 (Print) and ISSN 2549-0206 (Online), is a peer-reviewed journal published two times a year (June and December) by Departemen of Management, Faculty of Economy and Business, Universitas Negeri Yogyakarta. JIM is intended to be the journal for publishing articles reporting the results of research on management and business.
JIM invites manuscripts in the various topics include, but not limited to, functional areas of marketing management, finance management, strategic management, operation management, human resource management, e-business, knowledge management, management accounting, management control system, management information system, international business, business economics, business ethics and sustainable, and entrepreneurship.
Jurnal Ilmu Manajemen (JIM) is accredited by the Ministry of Research, Technology and Higher Education of the Republic of Indonesia (RISTEKDIKTI), No. 200/M/KPT/2020 (Dec. 23, 2020)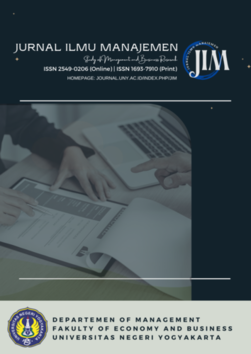 The journal published two times a year on June and December
JIM has been ACCREDITED at rank 5th (Sinta 5) by the Ministry of Education, Culture, Research and Technology of Indonesia according to the Decree (SK) No. 200/M/KPT/2020. It is valid from Vol. 15 No. 1 (2018) until Vol. 19 No. 2 (2022) based on that certificate.
Announcements
CALL FOR ARTICLE: VOL 20, NO 1, JUNE 2023

Please submit your best articles to be published in Volume 20, No 1, June 2023. Start that issue, editor only accepts manuscript in English.

Posted: 2023-01-05
Vol 19, No 2 (2022): DESEMBER 2022
Full Issue
| | |
| --- | --- |
| View or download the full issue | PDF |
Table of Contents
Articles
Octavia Maharani

, Trisakti University, Indonesia

Farah Margaretha Leon

, Trisakti University, Indonesia

10.21831/jim.v19i2.50423

54-67
Sefta Nandiatama Fahrizal Isni

, Universitas Esa Unggul, Indonesia

Lia Amalia

, Universitas Esa Unggul, Indonesia

Rina Anindita

, Universitas Esa Unggul, Indonesia

10.21831/jim.v19i2.52563

68-83
Adzkia Marwa As-siisi

, Universitas Pendidikan Indonesia

Agus Rahayu

, Universitas Pendidikan Indonesia, Indonesia

Puspo Dewi Dirgantari

, Universitas Pendidikan Indonesia, Indonesia

10.21831/jim.v19i2.54539

84-96
Binar Dwiyanto Pamungkas

, Fakultas Ekonomi dan Manajemen, Universitas Samawa, Indonesia

Usman Usman

, Fakultas Ekonomi dan Manajemen Universitas Samawa, Indonesia

Roos Nana Sucihati

, Fakultas Ekonomi dan Manajemen Universitas Samawa, Indonesia

10.21831/jim.v19i2.55302

97-112
Ajeng Damar Rarasati

, Universitas Bakrie, Indonesia

Muchsin Saggaf Shihab

, Universitas Bakrie, Indonesia

10.21831/jim.v19i2.55996

113-125