ISSN: 2303-2065 (Print), ISSN: 2502-5430 (Online)

Nominal Barometer Riset Akuntansi dan Manjemen is published by the Accounting Study Program (S1), Faculty of Economics, Yogyakarta State University in collaboration with the Institute for Research and Community Services, Gunung Rinjani University, based on a journal publishing agreement (click the agreement). Nominal Barometer Riset Akuntansi dan Manjemen contains the results of didactic, methodical, and empirical research in accounting science. This journal contains both qualitative and quantitative research.
Research topics in this journal include the following issues: Auditing, Management Accounting, Accounting Information Systems, Financial Accounting, Sharia Accounting, Behavioral Accounting, Public Sector Accounting, Management Control Systems, Financial Management, Management Information Systems, Management Information Systems, Cost Management, and Taxation.
Nominal is issued biannually, i.e. APRIL and SEPTEMBER with an average number of articles of 10 articles per edition.
Nominal has been accredited at level 3 (SINTA 3)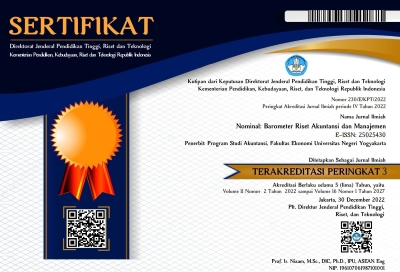 Follow the link below to view the full edition
Search by edition (Click here)
Search by Author (Click here)
Published by:
Accounting Study Program
Faculty of Economics and Business, Yogyakarta State University
Kampus Karangmalang, Yogyakarta 55281Telp./Fax: (0274) 586168 psw 1825
email: nominal@uny.ac.id
Announcements
No announcements have been published.
Vol 12, No 1 (2023): Nominal April 2023
Table of Contents
Articles
Erlinda Sholihah

, Sekolah Tinggi Ilmu Ekonomi Studi Ekonomi Modern, Indonesia

Risma Nurhapsari

, Sekolah Tinggi Ilmu Ekonomi Studi Ekonomi Modern, Indonesia

10.21831/nominal.v12i1.52480

1-12
Dharis Septian Putri Utami

, Universitas Islam Negeri Sayyid Ali Rahmatullah Tulungagung, Indonesia

Sri Dwi Estiningrum

, Universitas Islam Negeri Sayyid Ali Rahmatullah Tulungagung, Indonesia

10.21831/nominal.v12i1.52635

13-31
Shabrina Rahutami Nur Amalia

, Universitas Airlangga, Indonesia

Hamidah Hamidah

, Universitas Airlangga, Indonesia

10.21831/nominal.v12i1.52825

32-47
Yudhistira Ardana

, IAIN Metro Lampung, Indonesia

Nur Syamsiyah

, IAIN Metro Lampung, Indonesia

Akhmad Faiz

, IAIN Metro Lampung, Indonesia

10.21831/nominal.v12i1.53262

48-58
Dinda Karunia Putri Zakaria

, Universitas Pembangunan Nasional "Veteran" Yogyakarta, Indonesia

Sri Hastuti

, Universitas Pembangunan Nasional "Veteran" Yogyakarta, Indonesia

Sri Wahyuni Widiastuti

, Universitas Pembangunan Nasional "Veteran" Yogyakarta, Indonesia

10.21831/nominal.v12i1.53974

59-71
Ardhiani Fadila

, UPN Veteran Jakarta, Indonesia

Siwi Nugraheni

, UPN Veteran Jakarta, Indonesia

Kery Utami

, UPN Veteran Jakarta, Indonesia

10.21831/nominal.v12i1.54284

72-83
Jesica Handoko

, Universitas Katolik Widya Mandala Surabaya, Indonesia

Victor Santoso

, Universitas Katolik Widya Mandala Surabaya

10.21831/nominal.v12i1.56571

84-101
Marina Zulaikah

, Universitas Negeri Semarang, Indonesia

Trisni Suryarini

, Universitas Negeri Semarang, Indonesia

10.21831/nominal.v12i1.58719

102-117
Abdullah Abdurahman Hasan

, Universitas Negeri Yogyakarta, Indonesia

Patriani Wahyu Dewanti

, Universitas Negeri Yogyakarta, Indonesia

Shamsul Nahar Abdullah

, INTI International University, Malaysia

10.21831/nominal.v12i1.59525

118-127