ISSN: 1829-8028 (Cetak), 2655-5182 (Online)
Jurnal Ekonomi dan Pendidikan (JEP) is a national scientific journal with open access and peer-reviewed published by the Department of Economics Education, Faculty of Economics, Universitas Negeri Yogyakarta, Indonesia.
JEP publishes theoretical or research manuscripts related to:
Economics
Education
Economics Education
Education Economics
JEP is issued biannually, i.e. April and October.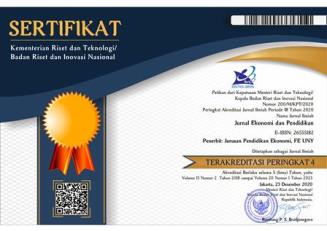 JEP has been ACCREDITED at rank 4rd (Sinta 4) by the Ministry of Research, Technology and Higher Education of Indonesia according to the Decree (SK) No. 200/M/KPT/2020. It is valid from Vol. 15 No. 2  (2018) until Vol. 20 No. 1 (2023).
| Edisi Lengkap | Pedoman Penulisan | Pengiriman Naskah Online | Kontak |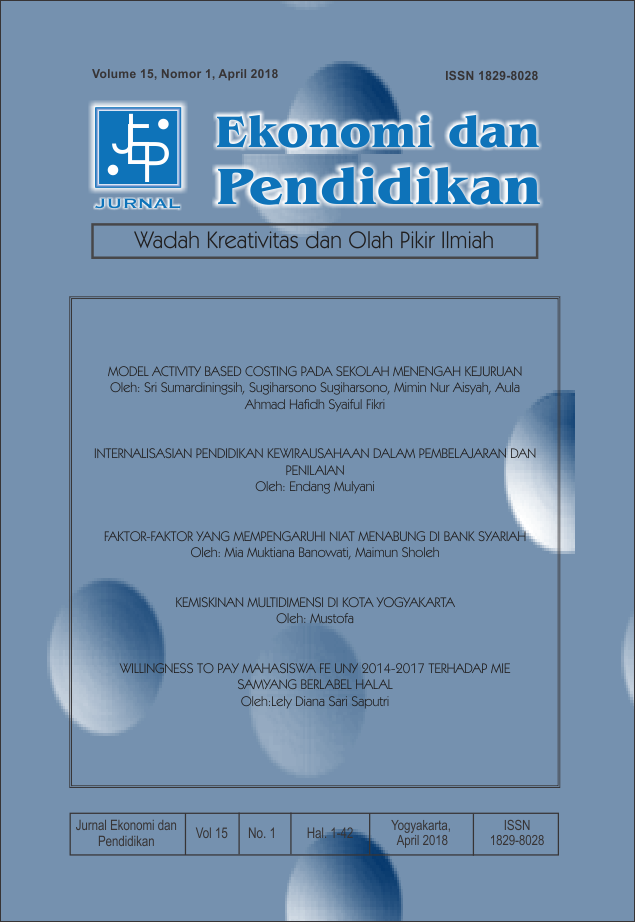 Call for Papers:
If interested, please send your article via this link
Vol 18, No 2 (2021)
Table of Contents
Articles
| | | |
| --- | --- | --- |
| | Sri Hardianti Sartika, Betanika Nila Nirbita | 104-114 |
| | | |
| --- | --- | --- |
| | Bambang Suprayitno, Tejo Nurseto, Ngadiyono Ngadiyono | 115-132 |
| | | |
| --- | --- | --- |
| | Maria Gustina, Ati Sumiati, Mardi Mardi | 133-151 |
| | | |
| --- | --- | --- |
| | Hendy Pramana Putra, Muhammad Diaudin, Roiful Fahrudin, Ahmad Fawaiq Suwanan | 152-161 |
| | | |
| --- | --- | --- |
| | Diah Kartika Sari, Euis Soliha | 162-170 |
| | | |
| --- | --- | --- |
| | Wahyu Rizki Aris Suseno | 192-206 |
| | | |
| --- | --- | --- |
| | Muhammad Ibra Rachmansyah | 207-217 |
| | | |
| --- | --- | --- |
| | Ika Melina Nur Fitriyah, Muhammad Abdul Ghofur | 218-229 |