Journal of Engineering and Applied Technology (JEATech) is an open-access double-blind peer-reviewed journal of engineering and applied technology. The publication of this journal aims to disseminate conceptual thoughts or ideas and research results that have been achieved in the engineering field and its application.
JEATech invites scholars, researchers, and students to contribute their studies and research by submitting original articles and not simultaneously submitting articles to other journals or conferences. Journal covers topics related to engineering fields in electrical engineering, electronic engineering, informatics engineering, computer science, mechatronics engineering, mechanical engineering, automotive engineering, construction engineering, industrial engineering, and applied technology.
Author Guidelines
The guidelines for authors are available  here
Online Submissions
Registration and login are required to submit items online and to check the status of current submissions
Journal Contact
Editorial Office: 
E-mail:   jeatech@uny.ac.id
Phone: +62822 6479 8626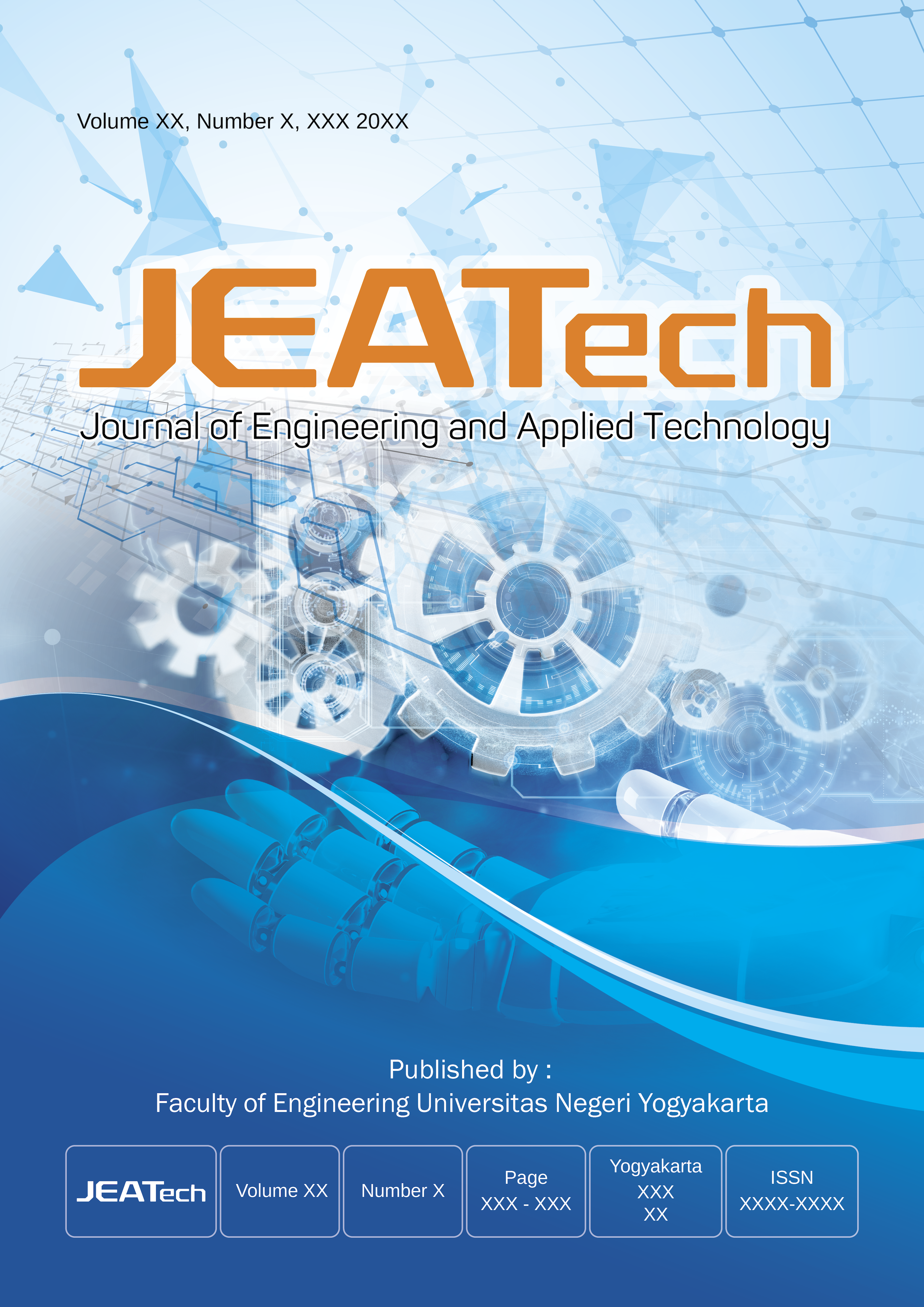 Announcements
No announcements have been published.
Vol 4, No 2 (2023): (August)
Full texts are being processed.
Table of Contents
Articles
Muhammad Royan

, Garuda Metalindo, Jakarta, Indonesia

Arianto Leman Soemowidagdo

, Department of Mechanical Engineering Education, Universitas Negeri Yogyakarta, Indonesia

Beni Tri Sasongko

, Department of Mechanical Engineering Education, Universitas Negeri Yogyakarta, Indonesia

Deny Aji Pradana

, DA Jaya Small Medium Enterprise, Ceper, Klaten, Indonesia

10.21831/jeatech.v4i2.64658

67-77
Yudam Alkolid

, Department of Industrial Engineering, Universitas Sarjanawiyata Tamansiswa, Indonesia

V. Reza Bayu Kurniawan

, Department of Industrial Engineering, Universitas Sarjanawiyata Tamansiswa, Indonesia

Syamsul Ma'arif

, Department of Industrial Engineering, Universitas Sarjanawiyata Tamansiswa, Indonesia

Nerda Zura Zaibidi

, School of Quantitative Sciences, Universiti Utara Malaysia, Malaysia

Norfaridatul Akmaliah Othman

, Department of Technology Management, Universiti Teknikal Malaysia Melaka, Malaysia

10.21831/jeatech.v4i2.62852

78-86
Muhamad Abdul Hadi

, Department of Civil Engineering, Universitas Islam Indonesia, Indonesia

Muhammad Kennyzyra Bintang

, Department of Civil Engineering, Universitas Islam Indonesia, Indonesia

Ad Zulfa Geovani Firdaus

, Department of Civil Engineering, Universitas Islam Indonesia, Indonesia

Ghina Hanifah Farza

, Department of Civil Engineering, Universitas Islam Indonesia, Indonesia

10.21831/jeatech.v4i2.59816

87-97
Beni Tri Sasongko

, Department of Mechanical Engineering Education, Universitas Negeri Yogyakarta, Indonesia

Prabuditya Bhisma Wisnu Wardhana

, Department of Mechanical Engineering, Politeknik Negeri Banyuwangi, Indonesia

Stephanus Danny Kurniawan

, Department of Mechanical Engineering, Vocational College, Universitas Gadjah Mada, Indonesia

Gunawan Budi Susilo

, Industrial Engineering Study Program, UIN Sunan Kalijaga Yogyakarta, Indonesia

10.21831/jeatech.v4i2.61334

98-105