Strategic alignment maturity assessment on conventional bank's information technology
Nia Budi Puspitasari
, Diponegoro University, Indonesia
Singgih Saptadi
, Diponegoro University, Indonesia
Aditya Dwi Rahmadi
, Diponegoro University, Indonesia
Abstract
Strategic alignment between information technology and business strategy is needed to achieve an organization's performance excellence. Bank X is a bank that focused on serving the micro, small and medium enterprise (MSME) market segments. Bank X provided a variety of banking services which are generally grouped into activities of raising and distributing funds. Banking services are carried out conventionally. At the end of 2019, Bank X was acquired by an investment holding company. The objective of the acquisition is to develop Bank X into a bank with a digital platform. This study aims to measure the maturity level of strategic alignment of information technology with business strategies at Bank X. A conceptual framework is developed based on relevant literature. The level of strategic alignment is measured based on Luftman's Strategic Alignment Maturity Model (SAMM) framework. The results of the analysis show that the strategic alignment maturity level of Bank X is at level 3. Several recommendations are given to improve the maturity level of Bank X's strategic alignment.
Keywords
assessment; MSME; bank
References
C. Matt, T. Hess, and A. Benlian, "Digital Transformation Strategies," Bus. Inf. Syst. Eng., vol. 57, no. 5, pp. 339–343, 2015.
J. Fernandez-Vidal, F. Antonio Perotti, R. Gonzalez, and J. Gasco, "Managing digital transformation: The view from the top," J. Bus. Res., vol. 152, no. January, pp. 29–41, 2022.
Y. Peng and C. Tao, "Can digital transformation promote enterprise performance? —From the perspective of public policy and innovation," J. Innov. Knowl., vol. 7, no. 3, p. 100198, 2022.
M. Fitzgerald, M., Kruschwitz, N., Bonnet, D., & Welch, "Embracing digital technology: A new strategic imperative," MIT Sloan Manag. Rev., vol. 55(2), p. 1, 2014.
G. and D. B. Westerman, "Revamping your business through digital transformation," MIT Sloan Manag. Rev., vol. 56 (3), p. 10.
M. G. Samper et al., "Digital transformation of business models: influence of operation and trade variables," Procedia Comput. Sci., vol. 203, pp. 565–569, 2022.
J. and J. P. Ward, The Strategic Management of Information Systems: Building a Digital Strategy. John Wiley & Sons, 2016.
R. P. Silva, C. Saraiva, and H. S. Mamede, "Assessment of organizational readiness for digital Science transformation in Assessment of organizational readiness SMEs for digital transformation in Assessment of organizational readiness for digital transformation in SMEs SMEs," Procedia Comput. Sci., vol. 204, no. 2021, pp. 362–369, 2022.
C. Caccamo, P. Pedrazzoli, R. Eleftheriadis, and M. C. Magnanini, "Using the Process Digital Twin as a tool for companies to evaluate the Return on Investment of manufacturing automation," Procedia CIRP, vol. 107, no. 2021, pp. 724–728, 2022.
T. Cziesla, "A Literature Review on Digital Transformation in the Financial Service Industry," in BLED 2014 Proceedings, 2014, p. Paper 18.
A. Graupner, E., Melcher, F., Demers, D. and Maedche, "Customers' Intention to Use Digital Services in Retail Banking - An Information Processing Perspective," in ECIS 2015, 2015, p. Paper 61.
Q. Wang and Z. Y. Du, "Changing the impact of banking concentration on corporate innovation: The moderating effect of digital transformation," Technol. Soc., vol. 71, no. March, p. 102124, 2022.
H. S. Pramanik, M. Kirtania, and A. K. Pani, "Essence of digital transformation—Manifestations at large financial institutions from North America," Futur. Gener. Comput. Syst., vol. 95, pp. 323–343, 2019.
Fujitsu, "Fujitsu Future Insights Global Digital Transformation Survey Report 2019," 2019.
R. Butler, T., and Hackney, "Understanding Digital Eco-innovation in Municipalities: An Institutional Perspective," in ECIS 2015, 2015, p. Paper 21.
A. R. D. Rodrigues, F. A. F. Ferreira, F. J. C. S. N. Teixeira, and C. Zopounidis, "Artificial intelligence, digital transformation and cybersecurity in the banking sector: A multi-stakeholder cognition-driven framework," Res. Int. Bus. Financ., vol. 60, no. July 2021, p. 101616, 2022.
T. ben Z. Jerry Luftman, Kalle Lyytinen, "Enhancing the measurement of information technology (IT) business alignment and its influence on company performance," J. Inf. Technol., vol. 32, no. 1, pp. 1–9, 2015.
D. Avison, J. Jones, P. Powell, and D. Wilson, "Using and validating the strategic alignment model," J. Strateg. Inf. Syst., vol. 13, no. 3, pp. 223–246, 2004.
A. Issa, B. Hatiboglu, A. Bildstein, and T. Bauernhansl, "Industrie 4.0 roadmap: Framework for digital transformation based on the concepts of capability maturity and alignment," Procedia CIRP, vol. 72, pp. 973–978, 2018.
U. D. Susanti, "Pengukuran Tingkat Kematangan Keselarasan Strategi Teknologi Informasi dengan Strategi Organisasi: Studi Kasus Kementerian Komunikasi dan Informatika," 2013.
D. M. Marchiori, R. G. Rodrigues, S. Popadiuk, and E. W. Mainardes, "The relationship between human capital, information technology capability, innovativeness and organizational performance: An integrated approach," Technol. Forecast. Soc. Change, vol. 177, no. January, p. 121526, 2022.
N. Venkatraman, J. C. Henderson, and S. Oldach, "Continuous strategic alignment: Exploiting information technology capabilities for competitive success," Eur. Manag. J., vol. 11, no. 2, pp. 139–149, 1993.
A. Renaud, I. Walsh, and M. Kalika, "Is SAM still alive? A bibliometric and interpretive mapping of the strategic alignment research field," J. Strateg. Inf. Syst., vol. 25, no. 2, pp. 75–103, 2016.
J. Luftman, "Assessing Business-IT Alignment Maturity," Commun. Assoc. Inf. Syst., vol. 4, no. December, pp. 1–51, 2000.
H. J. C and V. N, "strategic alignment: Leveraging information technology for transforming organizations," IBM Syst. J., vol. 32, no. 1, pp. 4–16, 1993.
V. Uren and J. S. Edwards, "Technology readiness and the organizational journey towards AI adoption: An empirical study," Int. J. Inf. Manage., vol. 68, no. March 2022, p. 102588, 2023.
J. Luftman, "Assessing Business / IT alignment," Inf. Syst. Manag., vol. 20, no. 4, p. 9, 2003.
M. Kerrigan, "A capability maturity model for digital investigations," Digit. Investig., vol. 10, no. 1, pp. 19–33, 2013.
T. C. Lacerda and C. G. von Wangenheim, "Systematic literature review of usability capability/maturity models," Comput. Stand. Interfaces, vol. 55, no. June 2017, pp. 1339–1351, 2018.
E. Gökalp and V. Martinez, "Digital transformation capability maturity model enabling the assessment of industrial manufacturers," Comput. Ind., vol. 132, 2021.
S. Q. Njanka, G. Sandula, and R. Colomo-Palacios, "IT-Business alignment: A systematic literature review," Procedia Comput. Sci., vol. 181, no. 2020, pp. 333–340, 2021.
L. Chen, "Business-IT alignment maturity of companies in China," Inf. Manag., vol. 47, no. 1, pp. 9–16, 2010.
DOI:
https://doi.org/10.21831/jeatech.v3i2.48859
Refbacks
There are currently no refbacks.
Copyright (c) 2022 Journal of Engineering and Applied Technology

This work is licensed under a
Creative Commons Attribution 4.0 International License
.
Our journal has been indexed by: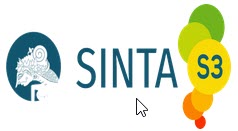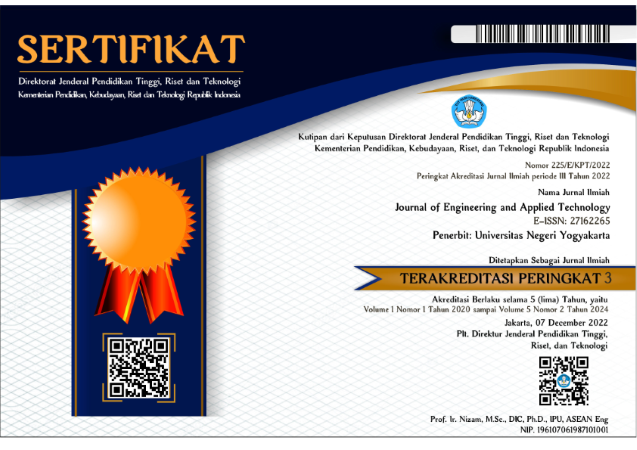 Our journal is supported by:

Journal of Engineering and Applied Technology (JEATech) by Faculty of Engineering UNY is licensed under a Creative Commons Attribution-ShareAlike 4.0 International License.