| | |
| --- | --- |
| Print ISSN | 2798-9755 |
| Online ISSN | 2776-3676 |
| DOI Prefix | Prefix 10.21831 by  |
| Editor in Chief | Prof. Dr. Marsigit, M.A. |
| Publisher | Ethnomath Association in cooperation with Faculty of Mathematics and Natural Sciences, Universitas Negeri Yogyakarta |
| Frequency | 2 issues per year: March & September |
| Description | Ethnomathematics Journal is an open access - international journal that provides a forum for publishing research reports, theoretical review, ideas, or innovation of mathematics education including ethnomathematics referring to the works of D'Ambroisio and the colleagues. This journal is designed and devoted to lectures, researchers, school teachers, teacher educators, as well as university students who want to publish their original works or thoughts. |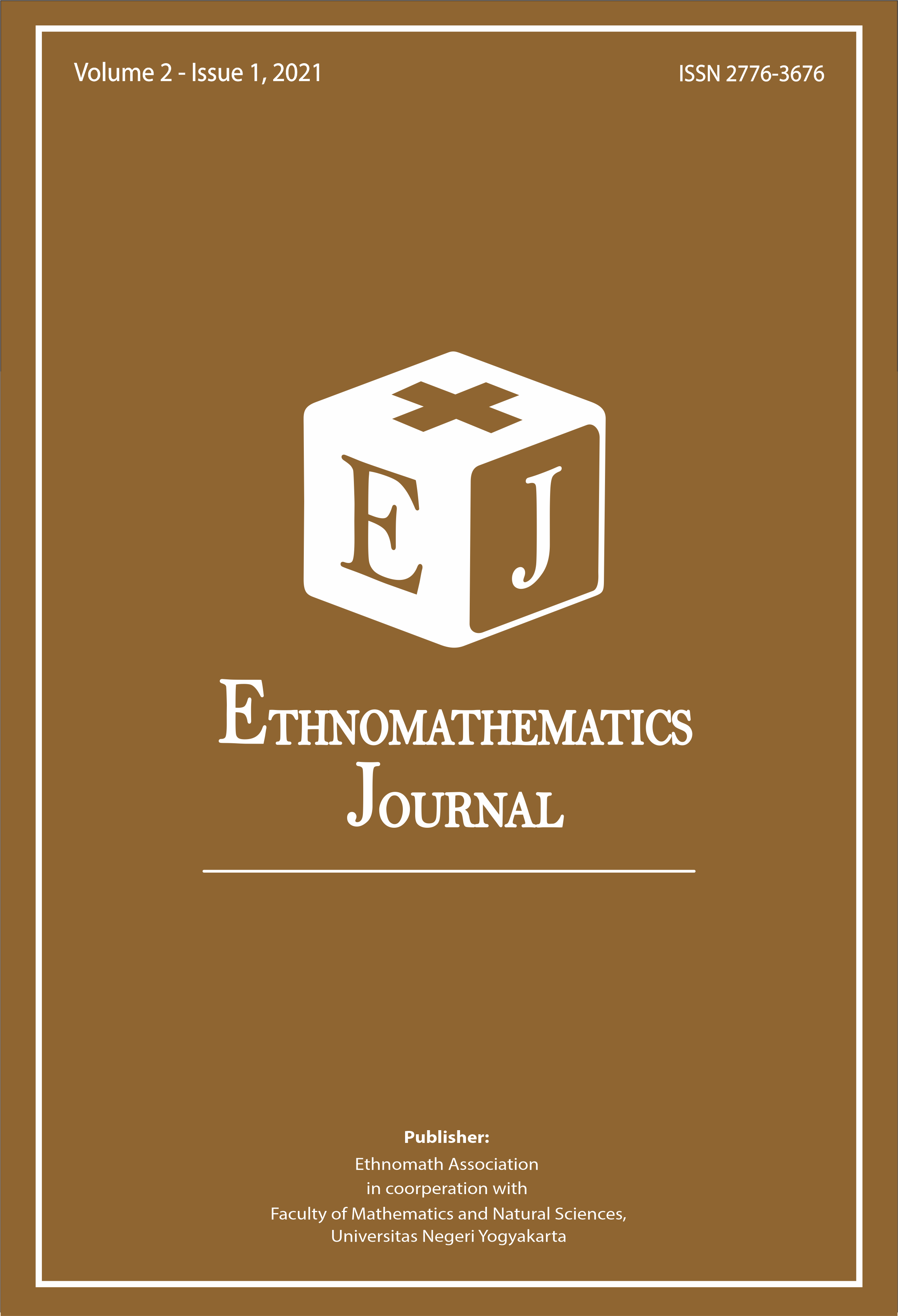 Before submission,
You have to make sure that your paper is prepared using the EJ paper TEMPLATE, has been carefully proofread and polished, and conformed to the author guidelines.  

Online Submissions

Registration and login are required to submit items online and to check the status of current submissions
Announcements
No announcements have been published.
Vol 2, No 2 (2021): September
Articles are being translated into English.
Table of Contents
Articles
Azamul Fadhly Noor Muhammad

, Universitas Negeri Yogyakarta, Indonesia

Marsigit Marsigit

, (Scopus ID: 57202802723) Universitas Negeri Yogyakarta, Indonesia

Soeharto Soeharto

, Universitas Negeri Yogyakarta, Indonesia

10.21831/ej.v2i2.39885
Luluk Mauluah

, UIN Sunan Kalijaga Yogyakarta, Indonesia

Eka Cahya Sari Putra

, Pascasarjana, Universitas Negeri Yogyakarta, Indonesia

10.21831/ej.v2i2.39995
Bambang Heriyanto

, Universitas Negeri Yogyakarta, Indonesia

Heny Sri Astutik

, Universitas Muhammadiyah Sorong

10.21831/ej.v2i2.41134
Meita Fitrianawati

, Universitas Ahmad Dahlan, Indonesia

Tika Setiyawati

, Universitas Ahmad Dahlan, Indonesia

10.21831/ej.v2i2.42699
Anisa Mita Ristanti

, Fakultas Matematika dan Ilmu Pengetahuan Alam, Universitas Negeri Yogyakarta, Indonesia

Nila Mareta Murdiyani

, Fakultas Matematika dan Ilmu Pengetahuan Alam, Universitas Negeri Yogyakarta, Indonesia

10.21831/ej.v2i2.43302