| | |
| --- | --- |
| Print ISSN | 2798-9755 |
| Online ISSN | 2776-3676 |
| DOI Prefix | Prefix 10.21831 by  |
| Editor in Chief | Prof. Dr. Marsigit, M.A. |
| Publisher | Ethnomath Association in cooperation with Universitas Negeri Yogyakarta |
| Frequency | 2 issues per year: March & September |
| Description | Ethnomathematics Journal is an international open-access forum that publishes research reports, theoretical review, ideas, or innovations in mathematics education including ethnomathematics referring to the works of D'Ambroisio and colleagues. This journal is designed and devoted to lectures, researchers, school teachers, and teacher educators, who want to publish their original works, empirical data, exploration results, or hypothesis. The journal welcomes and also invites contributors particularly from the field of mathematics education from Indonesia and other countries, at all times. |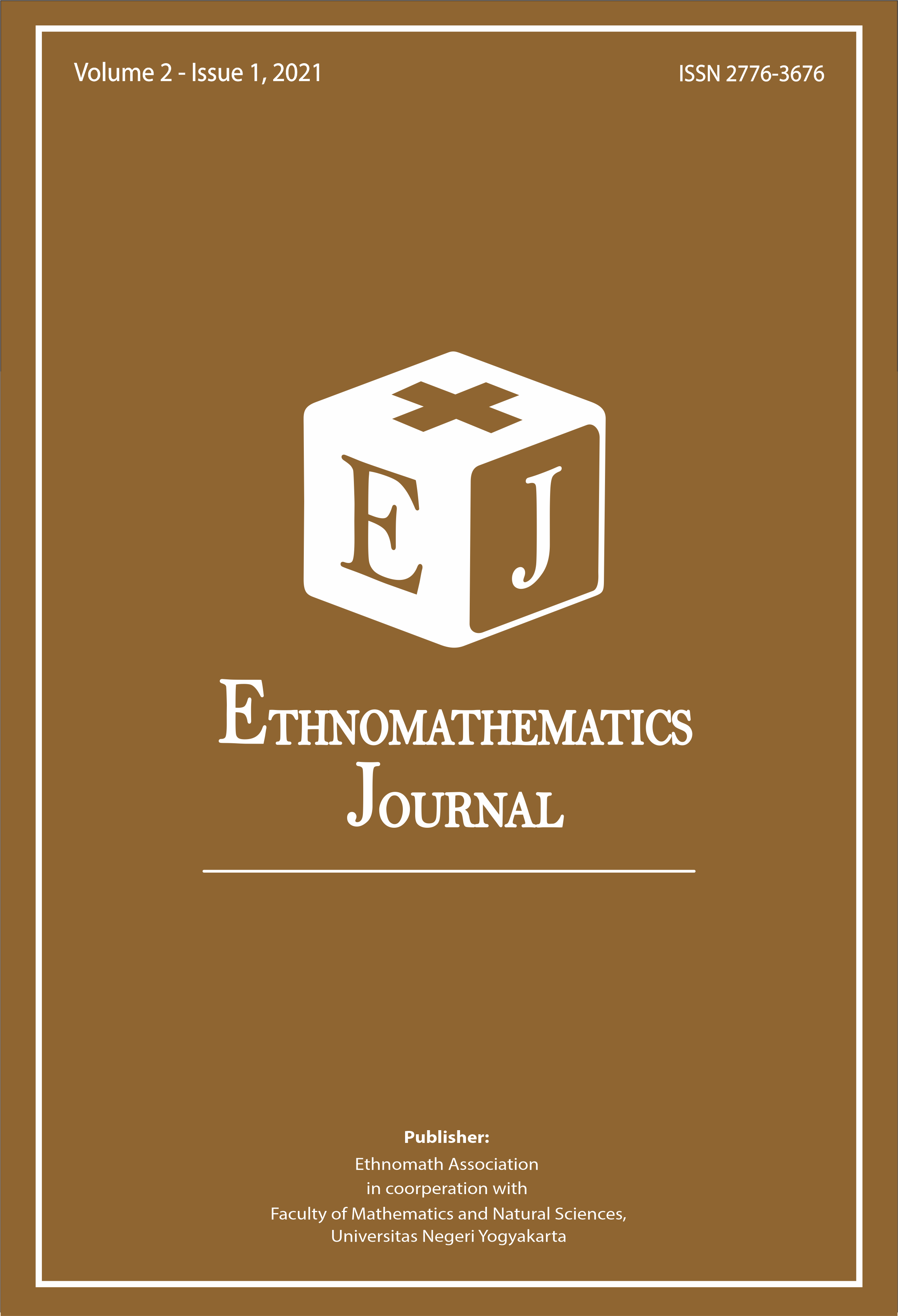 Before submission,
You have to make sure that your paper is well prepared, has been carefully proofread and polished, and conformed to the Author Guidelines.  

Online Submissions

Registration and login are required to submit items online and to check the status of current submissions
Announcements
No announcements have been published.
Vol 4, No 1 (2023): March
Table of Contents
Articles
Wara Sabon Dominikus

, Universitas Nusa Cendana, Indonesia

Patrisius Afrisno Udil

, Universitas Nusa Cendana, Indonesia

Ofirenty Elyada Nubatonis

, Universitas Nusa Cendana, Indonesia

Irna K. S. Blegur

, Universitas Nusa Cendana, Indonesia

10.21831/ej.v4i1.58473

1-18
Dewi Oktaviani

, Universitas Negeri Yogyakarta, Indonesia

Dewi Kinasih

, Universitas Terbuka, Indonesia

10.21831/ej.v4i1.59575

19-35
Muhammad Hafizh Naufal Yahya

, Universitas Mulawarman, Indonesia

Haeruddin Haeruddin

, Universitas Mulawarman, Indonesia

Achmad Muhtadin

, Universitas Mulawarman, Indonesia

Nanda Arista Rizki

, Universitas Mulawarman, Indonesia

10.21831/ej.v4i1.58425

36-52
Febriani Febriani

, Universitas Negeri Yogyakarta, Indonesia

Aditia Pramudia Sunandar

, Universitas Negeri Yogyakarta, Indonesia

Ulfa Aulia Syamsuri

, Universitas Gadjah Mada, Indonesia

Wipsar Sunu Brams Dwandaru

, Universitas Negeri Yogyakarta, Indonesia

10.21831/ej.v4i1.59984

53-
Riza Isna Khoirun Nisa

, Universitas Negeri Yogyakarta, Indonesia

Rania Nova Dechandra

, Universitas Negeri Yogyakarta, Indonesia

Wahyuni Eka Maryati

, Universitas Negeri Yogyakarta, Indonesia

Sri Prihatin Hartati

, SMP Negeri 1 Yogyakarta, Indonesia

10.21831/ej.v4i1.59929