JPTS (Jurnal Pendidikan Teknik Sipil) is a journal of research results and scientific studies in the field of Engineering or Vocational/Civil Vocational Education. The Civil Engineering Education Journal is published twice a year, every June and November. Jurnal Pendidikan Teknik Sipil (JPTS) is published to disseminate information related to various results of model development, experiments, classroom action research, model evaluation, development of educational media in the field of Civil Engineering Education. JPTS is open to academics, education practitioners to express the phenomena that are happening. 
Paper Submission
JPTS papers submission requires registration and login to submit papers online and to check the status of submissions. Papers must be provided in electronic form and uploaded to our online submission system. Papers that do not meet the basic requirements of the author guidelines will not be further processed.
Detailed information about the JPTS submission system, please refer to the Submission Guidelines. If there are problems with the online submission, please contact the Editorial Office at email: jpts@uny.ac.id.

Accepted and published papers will be freely accessed on this website and the following abstracting & indexing databases:
Science and Technology Index (SINTA) by Ministry of Research, Technology and Higher Education of The Republic of Indonesia
Online Submissions
Registration and login are required to submit items online and to check the status of current submissions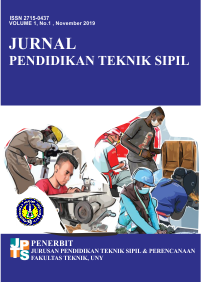 Announcements
Publication Ethics and Malpractice Statement

This statement clarifies the ethical behaviour of all parties involved in the act of publishing an article in Jurnal Pendidikan Teknik Sipil, including the authors, the editors, the peer-reviewers, and the publisher.
Posted: 2022-04-01
More...
Vol 4, No 2 (2022): November
Table of Contents
Articles
Syam Afra Fadilla

, Indonesia University of Education, Indonesia

Sukadi -

, Indonesia University of Education, Indonesia

Sri Rahayu

, Indonesia University of Education, Indonesia

10.21831/jpts.v4i2.51060

117-131
Aldi Adi Pratama

, Universitas Al Azhar Indonesia, Indonesia

Kiki Yulianto

, Universitas Andalas, Indonesia

10.21831/jpts.v4i2.53930

132-139
Egi Triaghosa

, Universitas Negeri Surabaya, Indonesia

Heri Suryaman

, Universitas Negeri Surabaya, Indonesia

Soeparno Soeparno

, Universitas Negeri Surabaya, Indonesia

Hendra Wahyu Cahyaka

, Universitas Negeri Surabaya, Indonesia

10.21831/jpts.v4i2.53878

153-167
Ayu Lhaksmi Primastuti

, Yogyakarta State University, Indonesia

Satoto Endar Nayono

, , Indonesia

10.21831/jpts.v4i2.53929

177-186
Rina Fitriyani

, Universitas Negeri Yogyakarta, Indonesia

Didik Purwantoro

, Universitas Negeri Yogyakarta, Indonesia

10.21831/jpts.v4i2.53954

187-196
Lilik Haryanto

, Universitas Negeri Yogyakarta, Indonesia

Maricha Husada Murti

, Universitas Negeri Yogyakarta, Indonesia

10.21831/jpts.v4i2.54086

197-210