Jurnal Pembangunan Pendidikan: Fondasi dan Aplikasi (JPPFA) published by Doctoral Program of Graduate School Universitas Negeri Yogyakarta. The journal publishes its issues biannually in June and December.
JPPFA is interested in comparative studies that lead to new insights and challenge of orthodox theories; that have potential for policy impact; and that apply to broad range of settings, including industrial democracies as well as low and middle income countries, countries in political transition and countries recovering from armed conflict and social unrest. JPPFA also considers papers that look at education and development through the policies and practices of official development assistance and commercial education trade. JPPFA engages these approaches to deepen the understanding of the relationship between education policy and development.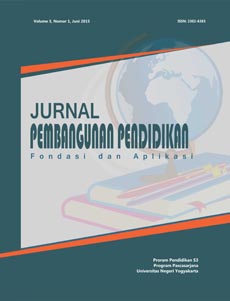 Announcements
No announcements have been published.