| | |
| --- | --- |
| ISSN | 2302-6383 (print)   2502-1648 (online)  |
| DOI Prefix | 10.21831 by  |
| Publisher | Graduate School, Universitas Negeri Yogyakarta |
| Editor in Chief | Prof. Dr. Siti Irene Astuti Dwiningrum, M.Si. |
| SINTA Score | S3  |
| Frequency | 2 issues per year: June & December  |
| Focus & Scope | Jurnal Pembangunan Pendidikan: Fondasi & Aplikasi (JPPFA) is interested in comparative studies that lead to new insights and challenge of orthodox theories; that have potential for policy impact; and that apply to broad range of settings, including industrial democracies as well as low and middle income countries, countries in political transition and countries recovering from armed conflict and social unrest. JPPFA also considers papers that look at education and development through the policies and practices of official development assistance and commercial education trade. JPPFA engages these approaches to deepen the understanding of the relationship between education policy and development. |
| OAI Address | https://journal.uny.ac.id/index.php/jppfa/oai |
| Citation Analysis | |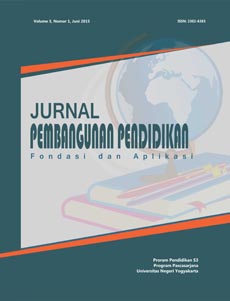 This journal has been

 ACCREDITED by National Journal Accreditation (ARJUNA) 

Managed by

 Ministry of Research, Technology, and Higher Education, Republic Indonesia 

with

 Third Grade (Peringkat 3, Sinta 3).

Before submission,
You have to make sure that your paper is prepared using the JPPFA paper TEMPLATE, has been carefully proofread and polished, and conformed to the author guidelines.  

Online Submissions

Registration and login are required to submit items online and to check the status of current submissions
Announcements
No announcements have been published.
Vol 8, No 2 (2020): December
Table of Contents
Articles
| | | |
| --- | --- | --- |
| | Arif Widodo, Nursaptini Nursaptini | 86-96 |
| | | |
| --- | --- | --- |
| | Cici Nur Azizah, Isnarmi Moeis, Junaidi Indrawadi, Suryanef Suryanef, Fitri Eriyanti | |
| | | |
| --- | --- | --- |
| | Betris Juliana Situmorang, Kusuma Chandra Kirana, Ignatius Soni Kurniawan | |
| | | |
| --- | --- | --- |
| | Irene Iswindarti, Rufii Rufii, Hartono Hartono | |
| | | |
| --- | --- | --- |
| | Siswanto Siswanto, Rizqi Ilyasa Aghni, Merinda Noorma Novida Siregar‬, Dian Normalitasari Purnama | |
| | | |
| --- | --- | --- |
| | Ariefa Efianingrum, Siti Irene Astuti Dwiningrum, Riana Nurhayati | |