---
Jurnal Inovasi Pendidikan IPA is a  peer reviewed and open access scientific journal published firstly by the Graduate School of Universitas Negeri Yogyakarta. However, since early 2020, the journal then managed and published by the Faculty of Mathematics and Natural Science, Universitas Negeri Yogyakarta. The journal disseminates papers written based on the results of original research study in the field of natural science education, biology education, physics education, and chemistry education, either in secondary and higher education. Jurnal Inovasi Pendidikan IPA publishes its issues biannually in April and October.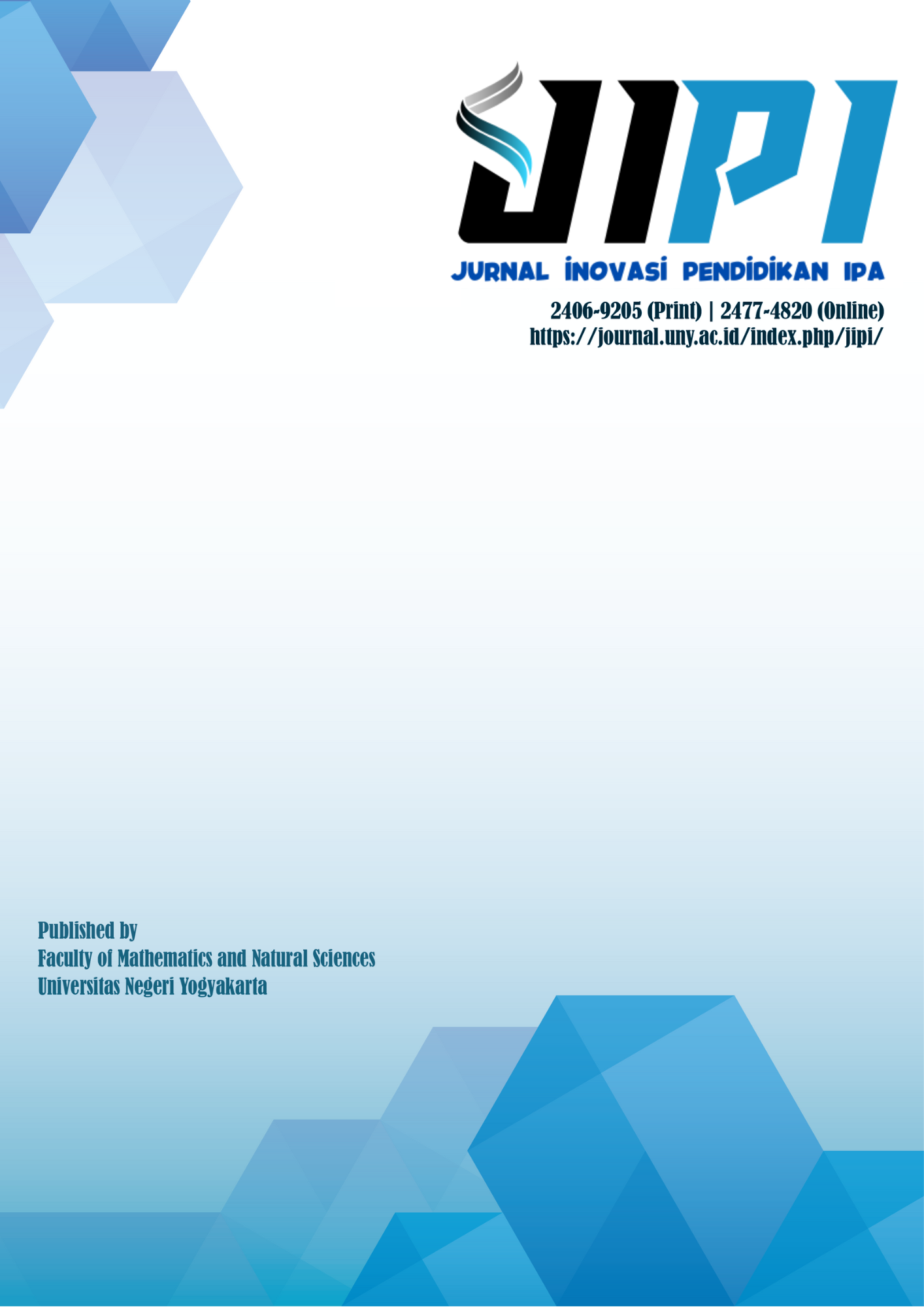 This journal has been

 

ACCREDITED by National Journal Accreditation (ARJUNA) Managed by Ministry of Research, Technology, and Higher Education, Republic Indonesia

 

with Second Grade (Peringkat 2, Sinta 2) since year 2016.
Accepted and published papers will be freely accessed in this website and the following abstracting & indexing databases:
 The journal has been listed in
OAI Address
Jurnal Inovasi Pendidikan IPA has OAI address: https://journal.uny.ac.id/index.php/jipi/oai
Please read this guideline carefully. Every manuscript sent to the editorial office of the journal ought to follow the writing guidelines. If the manuscript does not meet with the author guidelines or any manuscript written in different format, the article 
will BE REJECTED
 before further review. Only submitted manuscripts that meet the journals format will be processed further.
Announcements
CALL FOR REVIEWER

Dear Colleagues,


Jurnal Inovasi Pendidikan IPA (Journal of Innovation on Science Education) is looking for reviewers to review manuscripts for the journal. Reviewers should be familiar with research, issues, and trends in the field of education both in the broad sense (science education) or specific (refers to certain fields of study). Reviewers should also possess a good command of English.

We have a growing readership and we need your assistance to review papers for further sharing good practice, findings, and ideas.

The rewards that we can offer is a certificate for each completed review which is available upon request.

Please visit our website (https://journal.uny.ac.id/index.php/jipi) for examples of recently published papers.

To register your interest, please fill in the THIS FORM. You will then be added to our reviewer database and will be contacted as soon as we have a paper that matches your specialty area.

Please note that personal data filled in this form will be treated in strict confidentiality.


Regards,

Jurnal Inovasi Pendidikan IPA (JIPI)
Journal of Innovation on Science Education

Posted: 2022-12-15
Vol 9, No 1 (2023): Online First
Table of Contents
Articles
Indah Langitasari

, Universitas Sultan Ageng Tirtayasa, Indonesia

Ratna Sari Siti Aisyah

, Universitas Sultan Ageng Tirtayasa, Indonesia

Siti Elis Sya'adah

, Universitas Sultan Ageng Tirtayasa, Indonesia

10.21831/jipi.v8i1.38803
Brian Ricard Wola

, Universitas Negeri Manado, Indonesia

Jovialine Albertine Rungkat

, Universitas Negeri Manado, Indonesia

Gerry Michael Donad Harindah

, University of South Florida, United States

10.21831/jipi.v9i1.52974
Ira Lelita Eriyanti

, Universitas Negeri Yogyakarta, Indonesia

Jumadi Jumadi

, Universitas Negeri Yogyakarta, Indonesia

Yanarti Yanarti

, Universitas Negeri Yogyakarta, Indonesia

Wiwin Rosiningtias

, Universitas Negeri Yogyakarta, Indonesia

10.21831/jipi.v9i1.50313
Ratminingsih Ratminingsih

, Universitas Negeri Yogyakarta, Indonesia

Agung Wijaya Subiantoro

, Universitas Negeri Yogyakarta, Indonesia

10.21831/jipi.v8i1.48028
Anita Ekantini

, Islamic State University Sunan Kalijaga Yogyakarta, Indonesia

Ika Damayanti

, Islamic State University Sunan Kalijaga Yogyakarta, Indonesia

10.21831/jipi.v8i1.52552
Nana Nana

, Universitas Siliwangi, Indonesia

Kuncoro Asih Nugroho

, Universitas Negeri Yogyakarta, Indonesia

Jamil Ahmad

, Universitas Kebangsaan Malaysia, Malaysia

10.21831/jipi.v8i1.55767
yanti herlanti

, Universitas Islam Negeri Syarif Hidayatullah, Indonesia

Nuryani Rustaman

, Universitas Pendidikan Indonesia, Indonesia

Any Fitriani

, Universitas Pendidikan Indonesia, Indonesia

Ijang Rohman

, Universitas Pendidikan Indonesia, Indonesia

10.21831/jipi.v8i1.57910
Yunita Arian Sani Anwar

, Universitas Mataram, Indonesia

Muti'ah Muti'ah

, Universitas Mataram, Indonesia

10.21831/jipi.v8i1.48920
Mely Yani

, Universitas Pendidikan Indonesia, Indonesia

Syifa Qalbiyatul Layyinah

, Universitas Pendidikan Indonesia, Indonesia

Ince Raudhiah Zahra

, Universitas Pendidikan Indonesia, Indonesia

Annie Satriani Achwani

, Universitas Pendidikan Indonesia, Indonesia

Riandi Riandi

, Universitas Pendidikan Indonesia, Indonesia

Rini Sholihat

, Universitas Pendidikan Indonesia, Indonesia

Amprasto Amprasto

, Universitas Pendidikan Indonesia, Indonesia

10.21831/jipi.v8i1.50393
Fauzan Sulman

, UIN Sulthan Thaha Saifuddin Jambi, Indonesia

Lia Yuliati

, Universitas Negeri Malang, Indonesia

Sentot Kusairi

, Universitas Negeri Malang, Indonesia

Arif Hidayat

, Universitas Negeri Malang, Indonesia

Jupeth Toriano Pentang

, Western Philippines University, Philippines

Bismark Mensah

, University of Education, Winneba, Ghana

10.21831/jipi.v8i1.57308