Journal Title
Diklus: Jurnal Pendidikan Luar Sekolah
ISSN
2685-9637 P ISSN : 

0854-896X

DOI Prefix
Prefix 10.21831 by
Editor in Chief
Entoh Tohani
Publisher
Faculty of Education, Universitas Negeri Yogyakarta
Frequency
2 issues per year
Citation Analysis
Google Scholar
Diklus: Jurnal Pendidikan Luar Sekolah is a peer reviewed open-access journal which publishes educational research articles in nonformal education. Every submitted manuscript will be reviewed by at least two peer-reviewers using double blind review method.
This journal is published biannually
For author interested in submitting the manuscript, kindly ­register yourself. The author guidelines can be viewed it here, and the manuscript template can be downloaded here
Already have a Username/Password for Diklus: Jurnal Pendidikan Luar Sekolah? go to login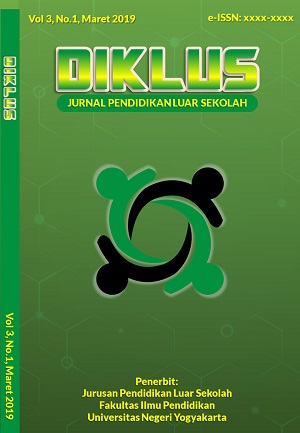 Announcements
No announcements have been published.
Vol 4, No 1 (2020)
Table of Contents
Articles
| | | |
| --- | --- | --- |
| | Adin Ariyanti Dewi, Umi Dayati, Ach Rasyad | 1-10 |
| | | |
| --- | --- | --- |
| | Citra Dwi Palenti, Iis Prasetyo, Ririn Gusti | 11-20 |
| | | |
| --- | --- | --- |
| | Kabut Yuli Asih, Hiryanto Hiryanto | 21-31 |
| | | |
| --- | --- | --- |
| | Hiryanto Hiryanto, Entoh Tohani, Miftahuddin Miftahuddin | 32-44 |
| | | |
| --- | --- | --- |
| | Sri Sugiyarti, Oktarina oktarina | 66-77 |