p-ISSN: 1412-1271  e-ISSN: 2579-4248    DOI: 10.21831
Humanika, Kajian Ilmiah Mata Kuliah Umum is published by Universitas Negeri Yogyakarta is an academic journal, publishes high-quality manuscripts that engage theoretical and empirical issues including education, social sciences, and religion studies. They are tackled from a multidisciplinary perspective. The journal also features case studies focusing on practical implications or papers related to learning and teaching in social and science disciplines.
published twice a year (March and September) in Bahasa Indonesia or English. This journal, serving as a forum for the study of interdisciplinary in Indonesia and other parts of the world within its local and challenging global context, supports focused studies of particular themes and interdisciplinary studies.
Humanika, Kajian Ilmiah Mata Kuliah Umum has been accredited at SINTA 4 by Indonesian Ministry of Research, Technology, and High Education Vol. 22. Np. 1. 2022- Vol. 26. No. 2. 2026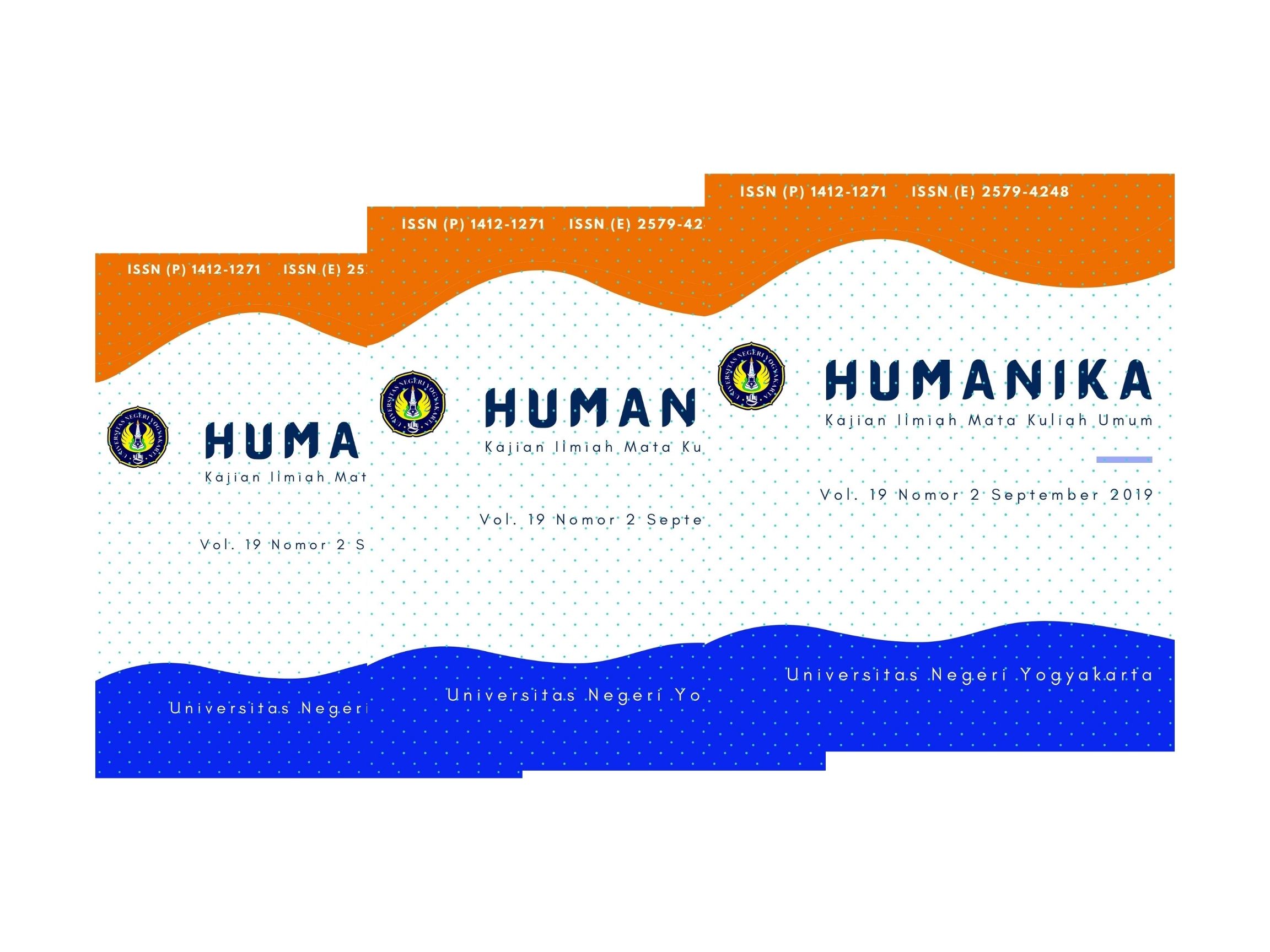 Vol 23, No 1 (2023): Humanika, Kajian Ilmiah Mata Kuliah Umum
Table of Contents
Articles
Aris Nurkhamidi

, Fakultas Keguruan dan Ilmu Pendidikan, Institut Agama Islam Negeri Pekalongan, Indonesia, Indonesia

Siti Khuzaiyah

, Faculty of Health Sciences, Universitas Muhammadiyah Pekajangan Pekalongan, Indonesia

Syukri Fathuddin Ahmad Widodo

, Universitas Negeri Yogyakarta, Indonesia

10.21831/hum.v23i1.59185

1-10
Dwi Murdiati

, Universitas Jakarta, Indonesia, Indonesia

Mukalam Mukalam

, Universitas Islam Negeri Sunan Kalijaga Yogyakarta, Indonesia

10.21831/hum.v23i1.59743

11-20
Fitri Budi Atika

, Universitas Islam Negeri Sunan Kalijaga Yogyakarta, Indonesia

Rizal Al Hamid

, Universitas Islam Negeri Sunan Kalijaga Yogyakarta, Indonesia

10.21831/hum.v23i1.52994

37-46
Waway Qodratulloh Suhendar

, Politeknik Negeri Bandung, Indonesia

Ajeng Ayu Milanti

, Politeknik Negeri Bandung, Indonesia

Ida Suhartini

, Politeknik Negeri Bandung, Indonesia

Rini Rahman

, Universitas Negeri Padang, Indonesia

10.21831/hum.v23i1.53509

73-80
Evi Rovikoh Indah Saputri

, Fakultas Ilmu Pendidikan dan Psikologi Universitas Negeri Yogyakarta, Indonesia

L Hendrowibowo

, Fakultas Ilmu Pendidikan dan Psikologi Universitas Negeri Yogyakarta, Indonesia

Ebni Sholikhah

, Fakultas Ilmu Pendidikan dan Psikologi Universitas Negeri Yogyakarta, Indonesia

Amrih Setyo Raharjo

, Fakultas Ilmu Pendidikan dan Psikologi Universitas Negeri Yogyakarta, Indonesia

Fajar Sidik

, Fakultas Ilmu Pendidikan dan Psikologi Universitas Negeri Yogyakarta, Indonesia

10.21831/hum.v23i1.59258

81-90
Shely Cathrin

, Fakultas Ilmu Pendidikan dan Psikologi, Universitas Negeri Yogyakarta, Indonesia

Reno Wikandaru

, Fakultas Filsafat, Universitas Gadjah Mada, Indonesia

10.21831/hum.v23i1.59741

91-100