Link JPA OJS 3

Print ISSN

https://journal.uny.ac.id/v3/jpa

Online ISSN
2579-4531
DOI Prefix
10.21831 by
Publisher
Department of Early Childhood Education, Faculty of Education, Universitas Negeri Yogyakarta in in cooperation with in cooperation with the Perkumpulan Pengelola Jurnal PAUD (PPJ PAUD) Indonesia based on the MoU Number: 030/PPJ-PAUD/VIII/2020.
Editor in Chief
Muthmainah
SINTA Score
S4
Frequency
2 (Two) Issues per year
Focus & Scope
Jurnal Pendidikan Anak is research, study and analysis related to early childhood include; development of moral and religious values, physical motor development, emotional social development, cognitive development, language development, artistic and creative development, parenting, parenting, management institution of early childhood education, early child development assessment, child development psychology, child empowerment, learning strategy, Educational tool play, instructional media, innovation in early childhood education and various fields related to Early Childhood Education.
OAI Address
Citation Analysis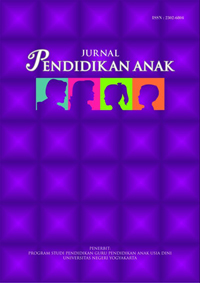 | | |
| --- | --- |
| | This journal has been ACCREDITED by National Journal Accreditation (ARJUNA) and Managed by the Ministry of Research, Technology, and Higher Education, Republic Indonesia, with Third-Grade (Peringkat 4, Sinta 4) since the year 2018 to 2023 according to decree No. 28/E/KPT/2019. |

Before submission,
You have to make sure that your paper is prepared using the Jurnal Pendidikan Anak paper TEMPLATE, has been carefully proofread and polished, and conformed to the author's guidelines.  

Online Submissions

Already have a Username/Password for Jurnal Pendidikan Anak? GO TO LOGIN
Need a Username/Password? GO TO REGISTRATION
Registration and login are required to submit items online and to check the status of current submissions.
Announcements
No announcements have been published.
Vol 12, No 1 (2023): Jurnal Pendidikan Anak
Table of Contents
Articles
Winnuly Winnuly

, Sekolah Pascasarjana Pendidikan Guru Pendidikan Anak Usia Dini, Fakultas Ilmu Pendidikan dan Psikologi, Universitas Negeri Yogyakarta, Indonesia

Puji Yanti Fauziah

, Universitas Negeri Yogyakarta, Indonesia

Rizki Sevi Triana

, Sekolah Pascasarjana Pendidikan Guru Pendidikan Anak Usia Dini, Fakultas Ilmu Pendidikan dan Psikologi, Universitas Negeri Yogyakarta, Indonesia

Tri Susanti

, Sekolah Pascasarjana Pendidikan Guru Pendidikan Anak Usia Dini, Fakultas Ilmu Pendidikan dan Psikologi, Universitas Negeri Yogyakarta, Indonesia

10.21831/jpa.v12i1.57660

36-48
Rani Nibras Idham

, Universitas Lampung, Indonesia

Ulwan Syafrudin

, Universitas Lampung, Indonesia

Rizky Drupadi

, Universitas Lampung, Indonesia

10.21831/jpa.v12i1.59786

49-58
Muh Nur Islam Nurdin

, Magister manajemen pendidikan Islam UIN Sunan Kalijaga, Indonesia

Muqowim Muqowim

, Magister manajemen pendidikan Islam UIN Sunan Kalijaga

10.21831/jpa.v12i1.56291

59-71
Afifah Nur Fauziah

, Universitas Islam Negeri Raden Mas Said Surakarta, Indonesia

Novias Maharani

, Universitas Islam Negeri Raden Mas Said Surakarta, Indonesia

Cinantya Lungid Ngasmarani

, Universitas Islam Negeri Raden Mas Said Surakarta, Indonesia

Erlinda Rahma Dewi

, Universitas Islam Negeri Raden Mas Said Surakarta, Indonesia

10.21831/jpa.v12i1.55551

72-80
Yenny Aulia Rachman

, Institut Islam Nahdlatul Ulama (INISNU)Temanggung, Indonesia

Malida Durrotul Chusnina

, Institut Islam Nahdlatul Ulama (INISNU)Temanggung

Nabila Alfiaturrohmah

, Institut Islam Nahdlatul Ulama (INISNU)Temanggung

10.21831/jpa.v12i1.60045

81-87
Susanti Etnawati

, Sekolah Pascasarjana Pendidikan Guru Pendidikan Anak Usia Dini Fakultas Ilmu Pendidikan dan Psikologi, Universitas Negeri Yogyakarta, Indonesia

Muthmainah Muthmainah

, Departemen Pendidikan Anak Usia Dini FIPP UNY, Indonesia

10.21831/jpa.v12i1.56917

88-96
Rosi Tunas Karomah

, Prodi PIAUD FITK UIN Sunan Kalijaga, Prodi Psikologi FISHUM UIN Sunan Kalijaga Yogyakarta, Indonesia

Raden Rachmy Diana

, Prodi PIAUD FITK UIN Sunan Kalijaga, Prodi Psikologi FISHUM UIN Sunan Kalijaga Yogyakarta, Indonesia

10.21831/jpa.v12i1.59847

97-105