Print ISSN
2302-6804
Online ISSN
2579-4531
DOI Prefix
10.21831 

by 

Publisher
Department of Early Childhood Education, Faculty of Education, Universitas Negeri Yogyakarta in in cooperation with in cooperation with the Perkumpulan Pengelola Jurnal PAUD (PPJ PAUD) Indonesia based on the MoU Number: 030/PPJ-PAUD/VIII/2020.
Editor in Chief
Muthmainah
SINTA Score
S4
Frequency
2 (Two) Issues per year
Focus & Scope
Jurnal Pendidikan Anak is research, study and analysis related to early childhood include; development of moral and religious values, physical motor development, emotional social development, cognitive development, language development, artistic and creative development, parenting, parenting, management institution of early childhood education, early child development assessment, child development psychology, child empowerment, learning strategy, Educational tool play, instructional media, innovation in early childhood education and various fields related to Early Childhood Education.
OAI Address

https://journal.uny.ac.id/index.php/jpa/oai

Citation Analysis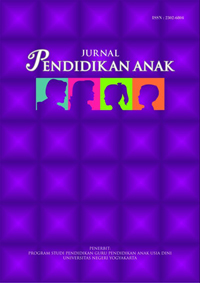 | | |
| --- | --- |
| | This journal has been ACCREDITED by National Journal Accreditation (ARJUNA) Managed by the Ministry of Research, Technology, and Higher Education, Republic Indonesia with Third-Grade (Peringkat 4, Sinta 4) since the year 2018 to 2023 according to decree No. 28/E/KPT/2019. |

Before submission,
You have to make sure that your paper is prepared using the Jurnal Pendidikan Anak paper TEMPLATE, has been carefully proofread and polished, and conformed to the author guidelines.  

Online Submissions

Already have a Username/Password for Harmoni Sosial: Jurnal Pendidikan IPS? GO TO LOGIN
Need a Username/Password? GO TO REGISTRATION
Registration and login are required to submit items online and to check the status of current submissions
Announcements
No announcements have been published.
Vol 11, No 1 (2022): Jurnal Pendidikan Anak
Table of Contents
Articles
| | | |
| --- | --- | --- |
| | Sefriyanti Sefriyanti, Ibrahim Ibrahim | 1-9 |
| | | |
| --- | --- | --- |
| | Anisa Nur Fauzi, Siti Wahyuningsih, Muhammad Munif Syamsuddin | 10-18 |
| | | |
| --- | --- | --- |
| | Ika Budi Maryatun, Nurul Amalia Firdhaus | 19-29 |
| | | |
| --- | --- | --- |
| | Mei Duwi Sartika, Rukiyah Rukiyah, Windi Dwi Andika, Sri Sumarni | 30-39 |
| | | |
| --- | --- | --- |
| | Dwi Wulandari, Ledistar Sumin Naibaho, Lia Amanda Putri, Beata Melati Senja Kirana, Dimas Ganang Ardhianto, Ahmad Haidar | 40-51 |
| | | |
| --- | --- | --- |
| | Nur Fauziah Lumbin, Ratih Yakob, Nirmala Daud, Rahmawati Yusuf, Rianti Rianti, Puspa Ardini | 52-59 |
| | | |
| --- | --- | --- |
| | Nur Hayati, Muthmainah Muthmainah, Rina Wulandari | 60-67 |
| | | |
| --- | --- | --- |
| | Irhamna Irhamna, Sigit Purnama | 68-77 |
| | | |
| --- | --- | --- |
| | Anastasia Arum Sari Dyahningtyas | 78-86 |
| | | |
| --- | --- | --- |
| | Cahniyo Wijaya Kuswanto, Hesti Rafitasari | 87-97 |