Jurnal Edukasi Elektro adalah jurnal yang mewadahi artikel-artikel yang berkaitan dengan pengembangan keilmuan/terapan ilmu teknik elektro dan teknik mekatronika serta teknologi pendidikan berbasis teknik elektro dan mekatronika, baik yang berupa artikel hasil penelitian atau artikel konseptual. Jurnal ini diterbitkan Jurusan Pendidikan Teknik Elektro Fakultas Teknik - Universitas Negeri Yogyakarta.
Edukasi Elektro is a open access peer reviewed research journal that is published by Electrical Engineering Education Department - Faculty of Engineering - Yogyakarta State University. Edukasi Elektro is providing a platform for the researchers, academicians, professional, practitioners and students to impart and share knowledge in the form of high quality empirical and theoretical research papers, case studies, literature reviews and book reviews on education.
Edukasi Elektro welcomes and acknowledges high quality theoretical and empirical original research papers, case studies, review papers, literature reviews, book reviews, conceptual framework, analytical and simulation models, technical note about electrical engineering, mechatronics engineering, and the technology in education base on electrical and mechatronics engineering at any topic from researchers, academicians, professional, practitioners and students from all over the world.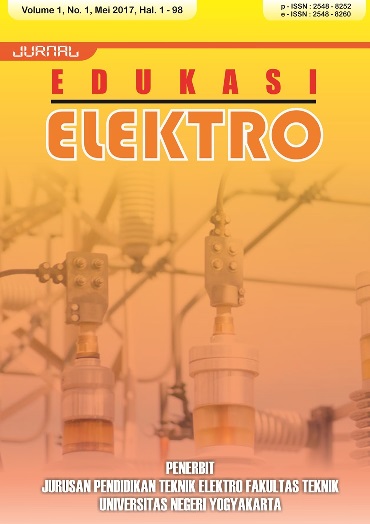 Announcements
No announcements have been published.
Vol 2, No 1 (2018): Jurnal Edukasi Elektro Volume 2 Nomor 1 Mei 2018
Table of Contents
Articles
Andik Asmara


Abstract views : 0 |

views : 2
Fivia Eliza


Abstract views : 0 |

views : 1
Sapta Nugraha


Abstract views : 0 |

views : 1
Muhammad Yafie Nuha


Abstract views : 1 |

views : 1
Retno Renggani Nugroho


Abstract views : 0 |

views : 1
Herlambang Sigit Pramono


Abstract views : 4 |

views : 1
Kurnifan Adhi Prasetyo


Abstract views : 0 |

views : 2