ISSN 1693-0479 (Print) | ISSN 2580-0175 (Online)
Imaji: Jurnal Seni dan Pendidikan Seni is a journal containing the results of research/non-research studies related to arts and arts education, including fine arts and performing arts (dance, music, puppetry, and karawitan). Imaji: Jurnal Seni dan Pendidikan Seni is published twice a year in April and October by the Faculty of Languages and Arts of Universitas Negeri Yogyakarta in cooperation with AP2SENI (Asosiasi Program Studi Pendidikan Seni Drama, Tari, dan Musik se-Indonesia/Association of Drama, Dance, and Music Education Study Programs in Indonesia) based on the MoU Number: 17/AP2SENI/2017 and the MoU Number: 511/UN34.12/VIII/TU/2017.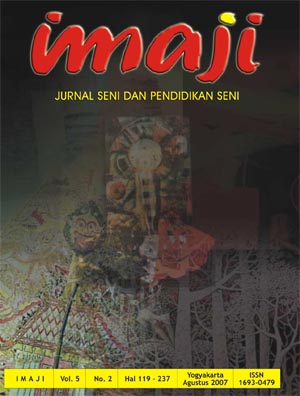 This journal has been ACCREDITED by National Journal Accreditation (ARJUNA) managed by the Ministry of Research, Technology, and Higher Education, Republic of Indonesia, with Sinta 4 Grade (Peringkat 4, Sinta 4) since the year 2017-2021 according to the decree No. 10/E/KPT/2019.
Editorial Office
Faculty of Languages and Arts, Universitas Negeri Yogyakarta
Karangmalang Yogyakarta 55281
Phone: (0274) 586168 Ext. 1125
Email: jurnal_imaji@uny.ac.id
Announcements
No announcements have been published.
Vol 20, No 2 (2022): IMAJI OKTOBER
Table of Contents
Articles
Sultan Ahmad

, Universitas Pendidikan Indonesia, Indonesia

Julia Julia

, Universitas Pendidikan Indonesia, Indonesia

10.21831/imaji.v20i2.47266

114-124
Gallah Akbar Mahardhika

, Universitas Negeri Semarang, Indonesia

Sunarto Sunarto

, Universitas Negeri Semarang, Indonesia

Wahyu Lestari

, Universitas Negeri Semarang, Indonesia

10.21831/imaji.v20i2.50396

131-139
Ahmad Suhadak

, Universitas Negeri Malang, Indonesia

Anak Agung Gde Rai Arimbawa

, Universitas Negeri Malang, Indonesia

Lisa Sidyawati

, Universitas Negeri Malang, Indonesia

10.21831/imaji.v20i2.51492

157-171
Bayu Aji Suseno

, Institut Seni Budaya Indonesia Tanah Papua, Indonesia

Retnoning Adji Widi Astuti

, Institut Seni Budaya Indonesia Tanah Papua, Indonesia

Muchammad Rizky Kadafi

, Institut Informatika dan Bisnis Darmajaya, Indonesia

10.21831/imaji.v20i2.48506

172-186
Gilda Nurul Shaesa

, Universitas Universal Batam, Indonesia

Widyanarto Widyanarto

, Universitas Universal Batam, Indonesia

Denny Eko Wibowo

, Universitas Universal Batam, Indonesia

10.21831/imaji.v20i2.45108

195-210