ISSN 1693-0479 (Print) | ISSN 2580-0175 (Online)
IMAJI is a journal containing the results of research/non-research studies related to arts and arts education, including fine arts and performing arts (dance, music, puppetry, and karawitan). IMAJI is published twice a year in April and October by the Faculty of Languages and Arts of Universitas Negeri Yogyakarta in cooperation with AP2SENI (Asosiasi Program Studi Pendidikan Seni Drama, Tari, dan Musik se-Indonesia/Association of Drama, Dance, and Music Education Study Programs in Indonesia) based on the MoU Number: 17/AP2SENI/2017 and the MoU Number: 511/UN34.12/VIII/TU/2017.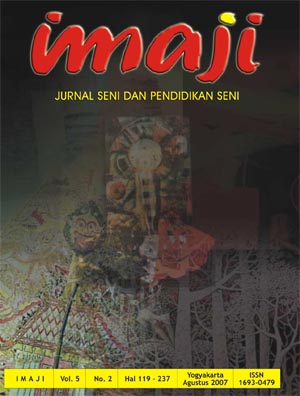 Mendaftarkan Artikel | Article Submission
Pedoman Penulisan Artikel (Template) | Submission Procedure

This journal has been ACCREDITED by National Journal Accreditation (ARJUNA) managed by the Ministry of Research, Technology, and Higher Education, Republic of Indonesia, with Sinta 4 Grade (Peringkat 4, Sinta 4) since the year 2017-2021 according to the decree No. 10/E/KPT/2019.
Editorial Office
Faculty of Languages and Arts, Universitas Negeri Yogyakarta
Karangmalang Yogyakarta 55281
Phone: (0274) 586168 Ext. 1125
Email: jurnal_imaji@uny.ac.id
Announcements
No announcements have been published.
Vol 20, No 1 (2022): IMAJI APRIL
Table of Contents
Articles
| | | |
| --- | --- | --- |
| | Tirta Dimas Wahyu Negara | 23-33 |
| | | |
| --- | --- | --- |
| | Aida Roihana Zuhro, Pramudya Cahyandaru | 34-46 |
| | | |
| --- | --- | --- |
| | Mohd Asnari Taim, Asmiaty Amat | 47-57 |
| | | |
| --- | --- | --- |
| | Dhimas Febriant Astrawira Wae, Yoyok Yermiandhoko | 58-68 |
| | | |
| --- | --- | --- |
| | Gustia Arini Edinon | 69-77 |
| | | |
| --- | --- | --- |
| | Iki Hayati, Wahyu Lestari | 88-94 |
| | | |
| --- | --- | --- |
| | Sri Linda Oktavia, Robby Hidajat, Rully Aprilia Zandra | 95-103 |