Research and Evaluation in Education. e-ISSN: 2460-6995
Firstly published in 2015, Research and Evaluation in Education (REiD) is a biannually-published journal (publication in June and December). REiD disseminates articles written based on the results of scientific research focusing on assessment, measurement, and evaluation in educational areas.
The articles presented in the journal are not only in the field of education in general, but also educational research and evaluation in more specific terms, such as technology and vocation, non-formal education, applied linguistics, educational management, science, mathematics, instructional technology.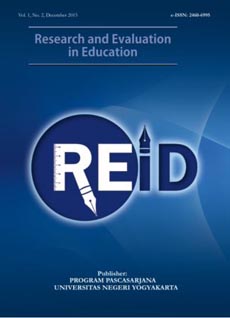 Announcements
CALL FOR PAPERS

Publication schedule: June 2017

Papers accepted: 01 January - 20 March 2017

Posted: 2017-01-18
More...
Vol 2, No 2 (2016): December
Table of Contents
Articles
| | | |
| --- | --- | --- |
| | Aisiah Aisiah, Suhartono Suhartono, Sumarno Sumarno | 108-121 |
| | | |
| --- | --- | --- |
| | Azwar Inra, Sukamto Sukamto, Z. Mawardi Effendi | 122-134 |
| | | |
| --- | --- | --- |
| | Estu Widodo, Franciscus Xaverius Sudarsono | 135-154 |
| | | |
| --- | --- | --- |
| | Idwin Irma Krisna, Djemari Mardapi, Saifuddin Azwar | 165-180 |
| | | |
| --- | --- | --- |
| | Shodiq Shodiq, Zamroni Zamroni, Kumaidi Kumaidi | 181-193 |
| | | |
| --- | --- | --- |
| | Sugiyanta Sugiyanta, Soenarto Soenarto | 194-205 |
| | | |
| --- | --- | --- |
| | Umaru Mustapha Zubairu, Chetubo Kuta Dauda, Olalekan Busra Sakariyau, Isa Imam Paiko | 206-219 |
Editorial
| | | |
| --- | --- | --- |
| | (Cover, Foreword, Table of Content) - | i-iii |
| | | |
| --- | --- | --- |
| | (Indexes, Biography, Author Guidelines) - | iv-xi |