---
| | |
| --- | --- |
| Journal title | Pythagoras: Jurnal Matematika dan Pendidikan Matematika |
| Initials | pythagoras |
| Abbreviation | Pythagoras |
| Frequency | 2 issues per year (June and December) |
| DOI | Prefix 10.21831 by  |
| ISSN | 1978-4538 (Print) | 2527-421X (Online) |
| Editor-in-chief | Dr. Hartono |
| Publisher | Department of Mathematics Education, Faculty of Mathematics and Natural Sciences, Universitas Negeri Yogyakarta |
| Citation | Sinta | Google Scholar | Garuda |
PYTHAGORAS: Jurnal Matematika dan Pendidikan Matematika is a scientific journal in the field of mathematics and mathematics education published in June & December.
For more information read Focus and Scope.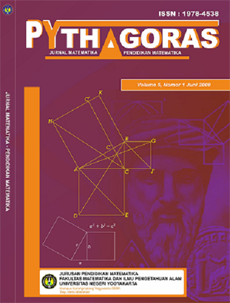 OAI Address
Pythagoras: Jurnal Matematika dan Pendidikan Matematika has OAI address: https://journal.uny.ac.id/index.php/pythagoras/oai
Please read this guideline carefully. Every manuscript sent to the editorial office of the journal ought to follow the writing guidelines. If the manuscript does not meet with the author guidelines or any manuscript written in different format, the article will BE REJECTED before further review. Only submitted manuscripts that meet the journals format will be processed further.
Announcements
Info Penting

Kepada para penulis, kami mohon untuk mencermati dan mematuhi pedoman penulisan (Author Guidelines) Pythagoras: Jurnal Matematika dan Pendidikan Matematika sebelum Anda mensubmit artikel/manuskrip. Setiap artikel/manuskrip yang diajukan kepada tim editor harus mematuhi semua ketentuan yang terdapat pada pedoman penulisan (seperti panjang artikel 3000-7000 kata, menggunakan sekurang-kurangnya 15 referensi yang terbit 10 tahun terakhir, 80% referensi berupa referensi primer/artikel jurnal, dll.). Jika artikel/manuskrip tidak memenuhi ketentuan-ketentuan yang terdapat pada pedoman penulisan, artikel akan ditolak (rejected) dan tidak akan dipertimbangkan untuk dilakukan proses peer-review.
Posted: 2020-11-05

Kebijakan Biaya Publikasi Artikel untuk Tahun 2021

Kami umumkan bahwa mulai tahun 2021, Pythagoras: Jurnal Matematika dan Pendidikan Matematika menerapkan kebijakan baru terkait biaya publikasi artikel. Penulis tidak dikenakan biaya untuk proses submission artikel/manuskrip, namun penulis akan diminta membayar biaya publikasi sebesar Rp1.000.000 atau 100 USD jika artikel dinyatakan diterima untuk diterbitkan di Pythagoras: Jurnal Matematika dan Pendidikan Matematika. Kami akan memberikan diskon 50% jika artikel ditulis oleh penulis minimal dari dua negara. Kebijakan ini mulai berlaku untuk artikel yang akan dipublikasikan pada Volume 16 Nomor 1, tahun 2021. Informasi lebih detail dapat dilihat di:

https://journal.uny.ac.id/index.php/pythagoras/about/editorialPolicies#custom-2

Posted: 2020-11-05
Vol 18, No 1: June 2023
Table of Contents
Articles
Rokhmatun Nabillah

, Universitas Negeri Yogyakarta, Indonesia

Herwin Herwin

, Universitas Negeri Yogyakarta, Indonesia

Kritika Tandukar

, Universität Marburg, Germany

10.21831/pythagoras.v18i1.58448