---
| | |
| --- | --- |
| Journal title | Pythagoras: Jurnal Pendidikan Matematika |
| Initials | pythagoras |
| Abbreviation | Pythagoras: J. Pend. Math. |
| Frequency | 2 issues per year |
| DOI | Prefix 10.21831 by  |
| ISSN | 1978-4538 (Print) | 2527-421X (Online) |
| Editor-in-chief | Dr Jailani |
| Publisher | Department of Mathematics Education, Faculty of Mathematics and Natural Sciences, Universitas Negeri Yogyakarta |
| Citation | Sinta | Google Scholar | Garuda |
PYTHAGORAS: Jurnal Pendidikan Matematika is a scientific journal in the field of mathematics and mathematics education published in June & December.
Accepted and published papers will be freely accessed in this website and the following abstracting & indexing databases:
The journal has been listed in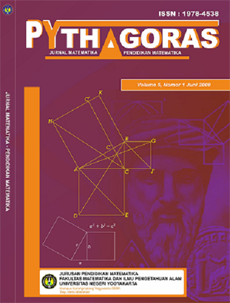 | | |
| --- | --- |
| | This journal has been ACCREDITED by National Journal Accreditation (ARJUNA) Managed by the Ministry of Research, Technology, and Higher Education, Republic Indonesia with Third-Grade (Peringkat 3, Sinta 3). |
OAI Address
Pythagoras: Jurnal Pendidikan Matematika has OAI address: https://journal.uny.ac.id/index.php/pythagoras/oai
Please read this guideline carefully. Every manuscript sent to the editorial office of the journal ought to follow the writing guidelines. If the manuscript does not meet with the author guidelines or any manuscript written in different format, the article will BE REJECTED before further review. Only submitted manuscripts that meet the journals format will be processed further.
Announcements
No announcements have been published.
Vol 14, No 2: December 2019
Table of Contents
Articles
| | | |
| --- | --- | --- |
| | Sufri Mashuri, Hasan Djidu, Retno Kusuma Ningrum | 112 - 125 |
| | | |
| --- | --- | --- |
| | Mohammad Archi Maulyda, Vivi Rachmatul Hidayati, Awal Nur Khalifatur Rosyidah, Iva Nurmawanti | 139 - 149 |
| | | |
| --- | --- | --- |
| | Endah Octaningrum Wahani Sejati, Djamilah Bondan Widjajanti | 150 - 162 |
| | | |
| --- | --- | --- |
| | Ezra Putranda Setiawan | 163 - 177 |
| | | |
| --- | --- | --- |
| | Agus Putra Wijaya, Gusti Ayu Mahayukti, I Nyoman Gita, Ni Nyoman Parwati | 178 - 187 |
| | | |
| --- | --- | --- |
| | Ibnu Rafi, Sugiman Sugiman | 188 - 198 |
| | | |
| --- | --- | --- |
| | Linda Nur Chabibah, Emy Siswanah, Dyan Falasifa Tsani | 199 - 210 |
| | | |
| --- | --- | --- |
| | Nur Sholihah, Heri Retnawati | 211 - 223 |
| | | |
| --- | --- | --- |
| | Bedilius Gunur, Derfina Agustavira Lanur, Polikarpus Raga | 224 - 232 |