Focus and Scope
The Indonesian Journal of Accounting Education (JPAI) is a scientific journal with a vision and mission to contribute to advancing accounting education. With this vision and mission, JPAI accepts and publishes the results of both empirical and non-empirical ideas relevant to accounting education. These thoughts can be in Indonesian or English.
Research topics include:
Accounting education
Accounting Learning Model
Accounting Learning Media
Accounting Learning Evaluation
Efforts to Improve Accounting Learning
Accounting Education Curriculum
Analysis of Knowledge and Skills of Accounting Education Graduates
Accounting Education Book Review
Accounting Science
Section Policies
Articles
| | | |
| --- | --- | --- |
| Open Submissions | Indexed | Peer Reviewed |
Peer Review Process
All submitted manuscripts are read by the editorial staff. The review proccess uses double blind review system. Those manuscripts evaluated by editors to be inappropriate to journal criteria are rejected promptly without external review. Manuscripts evaluated to be of potential interest to our readership are sent to reviewers. The editors then make a decision based on the reviewer's recommendation from among several possibilities: rejected, require major revision, need minor revision, or accepted.
Open Access Policy
This journal provides immediate open access to its content on the principle that making research freely available to the public supports a greater global exchange of knowledge.
Publication Ethic
This is the statement of ethics for Jurnal Pendidikan Akuntansi Indonesia published by Accounting Education Study Program. This statement was adapted from the principles of the Committee on Publication Ethics (COPE) and covers the code of ethics for chief editor, editorial board members, reviewers and authors.
Articles published in Jurnal Pendidikan Akuntansi Indonesia is an essential building block in the development of a coherent and respected network of knowledge on accounting education and those are a direct reflection of the writers and institutions quality. It is therefore important to agree upon standards of expected ethical behavior for all parties involved in the act of publishing: the authors, the journal editors, the peer reviewers, the publisher and the society. Editors of Jurnal Pendidikan Akuntansi Indonesia are committed to guarantee that all procedures are directed solely to facilitate an objective and intellectual treatment. Further, the editors and reviewers evaluate manuscripts without regard to race, gender, sexual orientation, religious belief, ethnic origin, citizenship, or certain political and group interests.

Duties Of Authors
Have the responsibility of ensuring only new and original work is submitted.
Must not reproduce work that has been previously published in other journals.
Must not submit any articles being reviewed or considered by the journal to other journals simultaneously.
Are only allowed to publish their work elsewhere after receiving a formal rejection from the journal or officially accepting their request to withdraw their work.
Must inform the Chief Editor or the publisher of any inaccuracy of data in their published work so that correction or retraction of article can be done.
Should make significant contributions and be held accountable for any shortcomings in their work.
Duties Of Reviewers
Must disclose any competing interest before agreeing to review a submission.
Can refuse to review any submission due to a conflict of interest or inadequate knowledge.
Review all submissions objectively, fairly, and professionally.
Reveal any ethical misconduct encountered while reviewing to the Chief Editor for further action.
Should ensure the originality of a submission and be alert to any plagiarism and redundant publication.
Must not discuss the content of the submission without permission.
Adhere to the time allocated for the review process. Requests for extension to review the submission are at the Chief Editor's discretion.
Duties Of Editorial Board Members
Actively contribute to the development and the greater good of the journal.
Act as ambassadors for the journal.
Continuously support and promote the journal.
Review any work assigned to them.
Duties Of Chief Editor
Evaluate manuscripts fairly and solely on their intellectual merit.
Ensure confidentiality of manuscripts and not disclose any information regarding manuscripts to anyone other than the people involved in the publishing process.
Has the responsibility to decide when and which articles are to be published.
Actively seek the views of board members, reviewers, and authors on how to improve/ increase the image and visibility of the journal.
Give clear instructions to potential contributors on the submission process and the authors' expectations.
Ensure appropriate reviewers are selected/ identified for the reviewing process.
Journal Procedure
|| Download JPEG File ||
Setiap artikel yang diterbitkan pada jurnal ini harus melewati peer review seperti yang digambarkan pada diagram berikut ini :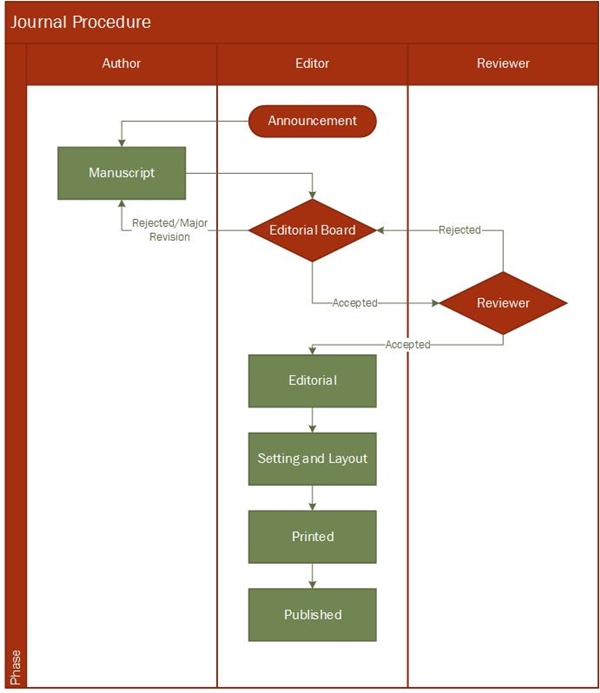 Author Guidelines
General requirements:
Manuscript based on ideas, scientific analysis, theoretical studies, or research results, either of the quantitative or qualitative approach in the field of Education and or Accounting Education.
The Manuscript should be written in Bahasa or English. Manuscript to be sent to journals are not being sent to other journals/issues and have not been published in other journals/issues.
Language and format become a criterion for a manuscript to be accepted.
Authors have the responsibility to avoid plagiarism at all cost. The editor of Jurnal Pendidikan Akuntansi Indonesia examines resemblance of texts using computer software, allowing tolerance not more than 30%.
The article is between 20 to 25 pages words in length including the title, abstract, and references. The article is typed on the Microsoft Word with a line space of 1.5,
Font type Times New Roman, font size 12, in one column of the .doc format, .docx, or .rtf (not of the pdf. format). Page numbers are not needed. The article consists of five main sections; namely: introduction, literature review, methods, results and discussion, conclusion and references. Length-wise weighting for each section can be seen in Figure 1.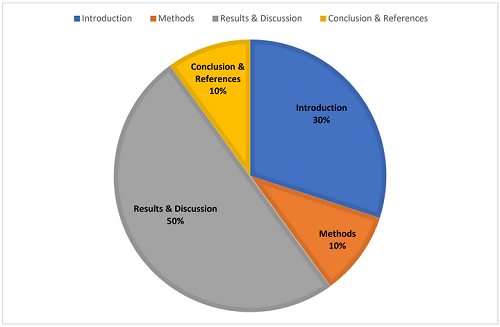 ,
Citation and Reference are written according to the APA (American Psychological Association) 6th edition style