Focus and Scope
Jurnal Inovasi Teknologi Pendidikan is a scientific journal that publishes and disseminates the results of researches, deep studies, innovative thinking, or work in educational technology. The focus of the journal is innovative works on the development of educational multimedia and e-learning which are effective in giving positive contributions to schools and educational institutions.
Section Policies
Articles
| | | |
| --- | --- | --- |
| Open Submissions | Indexed | Peer Reviewed |
Editorial
| | | |
| --- | --- | --- |
| Open Submissions | Indexed | Peer Reviewed |
Articles Fast Track
| | | |
| --- | --- | --- |
| Open Submissions | Indexed | Peer Reviewed |
Peer Review Process
Editors first review the submitted manuscript, called initial review by the editors. It will be desk evaluated whether the submitted manuscript is suitable for the Jurnal Inovasi Teknologi Pendidikan based on focus and scope, similarity score by using Anti-Plagiarism Software, methodological flaw, readability of the articles, and adhering to the submitted paper template.
Furthermore, the manuscript will be sent to at least two anonymous reviewers (Double-Blind Peer-Review).
The anonymous reviewers' comments are then sent to the corresponding author for necessary actions and responses. Afterward, the editorial team meeting suggested the final decision to the revised manuscript by authors.
Finally, the Editor will send the final decision to the corresponding author.
The accepted manuscript then continued to the copyediting and layout editing process to prepare the camera-ready paper.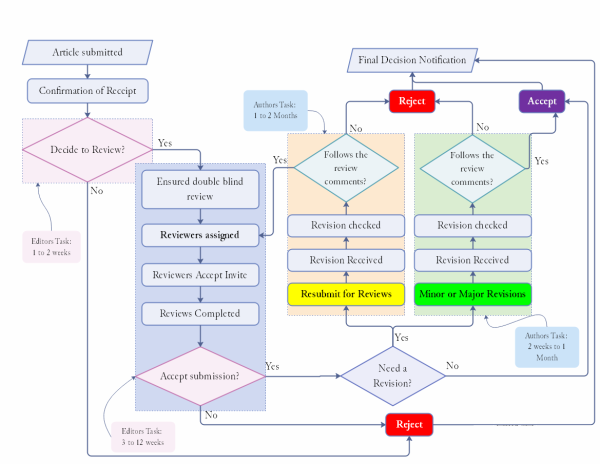 Open Access Policy
This journal is an open-access journal that provides immediate, worldwide, barrier-free access to the full text of all published articles without charge readers or their institutions for access. Readers have the right to read, download, copy, distribute, print, search, or link to the full texts of all articles in the Jurnal Inovasi Teknologi Pendidikan. This journal provides immediate open access to its content on the principle that making research freely available to the public supports a greater global exchange of knowledge.
Publication Ethics
The manuscript presents complete and original information as well as objective data.
Quotation source and reference cited in the manuscript must be informed.
The manuscript is written concisely and clearly for efficiency.
The manuscript is, at the same time, not being sent to and has never been published by another journal.
Everyone involved in the research (students & supervisors) should be included in the team of writers.
A writer who passed away should be included as a co-author.
Authors must avoid fabrication (make up the data and results of a study).
Authors must avoid falsification (manipulating research materials, equipment, process, changing the data or intentionally discarding data or results).
Authors should avoid Plagiarism (taking ideas, processes, results or words without citing the sources).
Authors should avoid Fragmentation (breaking research data into different themes of manuscript so that the discussion cannot become in-depth)
The manuscript should not use copied materials from another article without permission.
All materials/quotation earned from previous research, involving similar writers related to previous publications must be cited properly.
Plagiarism Checker
The manuscripts submitted to this journal will be screened for plagiarism using Turnitin.